Yukumo Village
Talk

2
4,466pages on
this wiki

Yukumo is the new village setting for Monster Hunter Portable 3rd. It is based heavily on a traditional Japanese (oriental) style. It is located within a mountain area in the Autumn season.
Description
Edit
A flourishing mountain village at the center of a valley where hot springs flow. Structures are built along both sides of the valley because of the restricting terrain. The village's largest building is in the center where it can utilize the natural hot springs. The Gathering Hall is a meeting place for hunters combined with an outdoor spa facility for relaxation. Accommodations are available to hunters in a separate building on the village's middle level. A General Store and Blacksmith are located on the bottom level. In addition to its hot spring attractions, the village also has an active forestry where high quality lumber is exported to neighboring cities in the region.
Until recently, the village had been secured by visiting Hunters who came to use the hot springs. However, because of an increased appearance of large monsters, the village has had to request a dispatch from the Hunter's Guild.
After slaying Zinogre, players may receive a movie showing Yukumo Village celebrating. To top it all, almost all characters from previous games make a cameo appearance.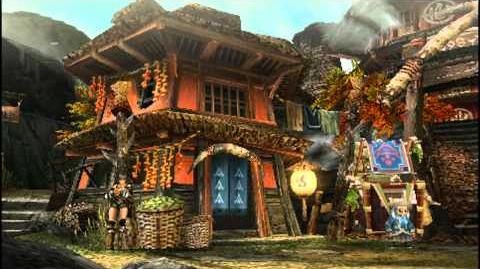 Photo Gallery
Edit