Volcanoes
Talk

1
5,730pages on
this wiki
Volcanoes
Information
Identifed By:
Volcanoes and lava lakes
Weather:
Always very hot
Common Small Monsters:
Bullfango, Ioprey, Apceros, Ceanataur, Remobra, Wroggi, Uroktor, Slagtoth, Rhenoplos
Common Large Monsters:
Iodrome, Basarios, Gravios, Lavasioth, Akantor, Shogun Ceanataur, Crimson Fatalis, Alatreon, Brachydios, Agnaktor, Uragaan, Steel Uragaan, Great Wroggi, Rathalos, Azure Rathalos, Deviljho, Rajang, Stygian Zinogre, Tigrex Subspecies, Volvidon, Black Gravios, Lunastra, Teostra, Kirin
Known Volcanoes Locations:
- Old Volcano
- Volcano
- Battleground
- Volcano (3rd)
- Sacred Land
- Underground Volcano
- Lava Island
Volcanoes are extremely hot environments containing solid ash floors and lava lakes. Almost all of the volcano's areas have very high temperatures that will drain a hunter's health, but a Cool Drink will prevent health loss. Stepping near or on the edges of the lava lakes will take away from your health, whether you drank a Cold Drink or not. The most ferocious monsters tend to live in this brutal environment.
Ecosystem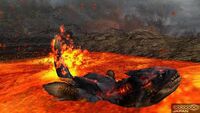 Inhabitants of the volcano regions include: Ioprey, Iodrome, Bullfango, Apceros, Ceanataur, Uragaan, Uroktor, Agnaktor, Rhenoplos, Rathalos, Shogun Ceanataur, Lavasioth, Basarios and Gravios. Other, more formidable monsters are fought here, like Akantor and Crimson Fatalis.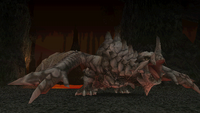 While Bullfango and Apceros tend to live in the cooler areas of volcanic regions, Ioprey live throughout the entire region. The Basarios can only be fought in the volcanic regions, where it rests for very long periods in the ashy soil to gain minerals to make its armor stronger. Gravios also live in these regions to eat rocks for nutrients and sleep in lava lakes. Lavasioth spends its life swimming in huge lava lakes, constantly looking out for prey to violently eat. Agnaktor is one of the top predators of the Volcano area of Monster Hunter 3, and is able to burrow through hard rock with its beak and claws. It is a common place for Elder Dragons to spend their time, including the Teostra, Lunastra, and Kirin. The formidable Alatreon is also found dwelling in the Sacred Land, a hidden part of the Volcano (3rd).
Exclusive Field Items
Powderstones and Seeds have grown in the hottest areas of most volcanic regions.
See Also