Vespoid
Talk

1
5,746pages on
this wiki
Vespoid

Names

English Name:
Vespoid
Nicknames:
Vesp
Titles:
Giant Bugs
Romaji:
Rangosuta
Japanese Name:
ランゴスタ
Japanese Title:
{{{japanese title}}}
Korean Name:
란 고스타

Description and Information

Species:
Neopteron
Element/s:
None
Ailment/s:
Weakest to:
Weakness Sign:
None
Signature Move:
Paralysis sting
Habitats:
Almost all areas
Size:
None
Monsters in Relation:
Vespoid Queen, Hornetaur

Chronological Appearances

First US/EU Appearance:
(2004)
First JP Appearance:
(2004)
Latest Appearance:
(2009)
Generation:
1

Vespoids are insect-like monsters that inhabit the land. They are known to be a nuisance for hunters, due to their stings that cause hunters to flinch, resulting in them being exposed to any further attacks. Their stingers are loaded with a neuro-toxin that can paralyze foes. They are normally placed near rocky-walls and caves and found almost everywhere. Controlled by the Queen Vespoid, they are found alone in some places, but appear in large numbers when with their leader.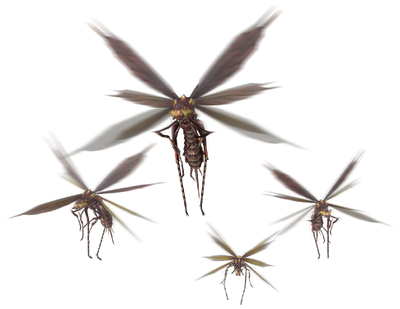 In-Game Description
Notes
Having a low resilience to most forms of damage, Vespoids will generally disintegrate when struck with a blow from a relatively powerful weapon.
They can be poisoned to prevent their body from shattering when killed.
Even if poison is not applied, there still exists a slim chance for successful carve, if the body doesn't shatter.
When poison is applied the smaller and regular-sized vespoids will die instantly.
They appear to be related to the Bnahabra, also an insect-like monster found in Monster Hunter Tri.
Frontier Analysis
Roar
X
Wind Pressure
X
Shock Trap
X
Pitfall Trap
X
Sonic Bomb
X
Flash Bomb
15
Meat
X
Stench Beads
X
Capture HP
X
Cuttable Tail
X

Resistance
Duration
Damage
Poison Resistance
10
60 sec
480
Para Resistance
80
5 sec
Sleep Resistance
200
40 sec
Faint Resistance