Velocidrome
Talk

0
4,476pages on
this wiki

A Velocidrome is a Raptorial Bird Wyvern and the alpha male leader of a Velociprey pack. Its large, bright red crest over its blue hide signifies to other Velociprey that it is fit to be their leader.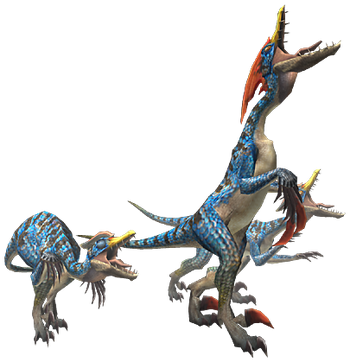 In the original Monster Hunter, Velocidromes were always surrounded by Velociprey, which constantly spawn. Hunters have to face one or two of them in a Quest. In later games they may be fought alone and away from their minions. They are one of the earlier monsters to be encountered in the various Monster Hunter games (with the exception of Monster Hunter Tri, which they are not featured in). They can usually be found in the Forest and Hills or the Jungle regions. There are several related species, including the Giadrome, the Gendrome and the Iodrome.
In-Game Description
Monster Hunter Freedom 2 / Monster Hunter Freedom Unite

The alpha monster that leads a Velociprey pack. They are larger and have a more prominent crest. Highly territorial, but will retreat to a safe place when injured to recover.
Notes
Among the "Raptor-Dromes" coined by MH fans, Velocidrome and Gendrome have no breath attack.
Velocidrome does not appear in Monster Hunter Tri, but its role is replaced by Great Jaggi, a monster who also calls its smaller monsters.
A Hard Core version of Velocidrome appears in late Season 10 of Monster Hunter Frontier, with improved attacks and a new look making it the most powerful of the Dromes in the series.

Aesthetic differences include red eyes, hooked beak, a different shaped crest and drooling when in Rage mode.
New attacks include a spinning bite followed by tailwhip, a side-to-side jumping body-tackle and super jumping that causes small dust covers and small rocks popping up showing it is breaking the ground as it jumps. (Requires Quake resist +2 to escape).

In its Introduction Scene, the Velocidrome is seen to raise its head and roar to call on Velocipreys, but Velocidrome never does this in battle.

Its HC variant uses this move as a taunt, however.

On Monster Hunter Frontier Online,Velocidrome can be a pet.
Velocidrome returns in Monster Hunter 4, with a new pin attack

The Velocidrome's crest can now be broken in MH4 while in other generations,it's crest couldn't be broken.
Frontier Analysis Velocidrome Normal State
Roar
X
Wind Pressure
X
Shock Trap
15
Pitfall Trap
X
Sonic Bomb
X
Flash Bomb
15
Meat
X
Stench Beads
X
Capture HP
>30%
Cuttable Tail
X

Resistance
Duration
Damage
Poison Resistance
100
60 sec
120
Para Resistance
80
1 sec
Sleep Resistance
70
15 sec
Faint Resistance
80
10 sec

| | | | | | | | | |
| --- | --- | --- | --- | --- | --- | --- | --- | --- |
| Hitzone | Cutting | Impact | Shot | Fire | Water | Thunder | Dragon | Ice |
| Body | 100 | 100 | 100 | 50 | 50 | 50 | 10 | 50 |
Frontier Analysis Velocidrome Normal SP State
Roar
X
Wind Pressure
X
Shock Trap
15
Pitfall Trap
X
Sonic Bomb
X
Flash Bomb
15
Meat
X
Stench Beads
X
Capture HP
>30%
Cuttable Tail
X

Resistance
Duration
Damage
Poison Resistance
100
60 sec
120
Para Resistance
80
1 sec
Sleep Resistance
70
30 sec
Faint Resistance
80
10 sec

| | | | | | | | | |
| --- | --- | --- | --- | --- | --- | --- | --- | --- |
| Hitzone | Cutting | Impact | Shot | Fire | Water | Thunder | Dragon | Ice |
| Body | 25 | 25 | 20 | -10 | -10 | -10 | -10 | -10 |
Videos
| Video | Title |
| --- | --- |
| | MHF ドスラン特異固体【脈動(下位)】 |
Polls
Poll

Poll

Velocidrome: Badass Meter: