Ad blocker interference detected!
Wikia is a free-to-use site that makes money from advertising. We have a modified experience for viewers using ad blockers

Wikia is not accessible if you've made further modifications. Remove the custom ad blocker rule(s) and the page will load as expected.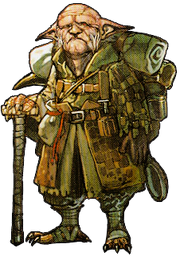 Monster Hunter 3 Ultimate
Deserted Island
Location: Area 4, in the cave with the Felyne's nest. Must crouch to enter. He will only appear in actual quests and not in Moga Woods free hunts.
Exchanged Item
Received Item
Gifts
Unique Mushroom
Fishing Harpoons

First-aid Med
Ration
Old Pickaxe
Psychoserum
Mega Pickaxe

Choice Mushroom
Iron Pickaxe
Ripened Mushroom
Mega Harpoon
Small Goldenfish
Farcaster
Goldenfish
EZ Shock Trap
Red Coral Stone
Old Bug Net
Wyvern Egg
Dash Juice
Monster Guts
First-aid Med
Wyvern Tears
Mega Potion
VE Ticket
Lifecrystal
VE Ticket Bronze
Rathian Spike
VE Ticket Silver
Rathalos Plate

VE Ticket Gold

Rathalos Ruby

VE Ticket Cosmic

Rathalos Mantle
Flooded Forest
Location: Area 6 (access from Area 4). If in MHP3rd, base camp near the bonfire.
Exchanged Item
Received Item
Gifts
Royal Rhino
Psychoserum

First-aid Med
Ration
Old Pickaxe
Iron Pickaxe
Psychoserum
Frog
Arowana Bait
Felvine Bomb
EZ Shock Trap

Small Goldenfish
Farcaster
Goldenfish
EZ Shock Trap
Monster Guts
First-aid Med
Wyvern Tear
Mega Potion
VE Ticket
Nutrients
VE Ticket Bronze
Royal Ludroth Crest
VE Ticket Silver
Duramboros Tail Bone
VE Ticket Gold
Duramboros Sacrum
VE Ticket Cosmic
Durambolite
Sandy Plains
Location: Base Camp
Exchanged Item
Received Item
Gifts
Crystal Bone
Hot Drink

First-aid Med
Felvine Bomb
Tuna Bait
Goldenfish Bait
Psychoserum
Old Bug Net
Adamant Pill
EZ Shock Trap
Bug Net
Iron Pickaxe

Golden Bone
Sonic Bomb
Herbivore Egg
Dash Juice
Monster Guts
First-aid Med
Wyvern Tear
Mega Potion
VE Ticket
Demondrug
VE Ticket Bronze
Nibelsnarf Scalp
VE Ticket Silver
Rathian Plate
VE Ticket Gold
Rathian Ruby
VE Ticket Cosmic
Rathian Mantle
Tundra
Location: Base Camp, jump off the ledge (to the right) near the exit
Exchanged Item
Received Item
Gifts
Bloodstone
Ration

Arowana Bait
Antidote
Might Pill
Adamant Pill
Psychoserum
Mega Pickaxe
Well-done Steak
EZ Shock Trap
Felvine Bomb
Power Juice

Wyvern Tear
Mega Potion
Popo Tongue
Hot Drink
VE Ticket
Armorskin
VE Ticket Bronze
Gigginox Claw
VE Ticket Silver
Barrioth Spike
VE Ticket Gold
Brachydios Gem (MH3U)
VE Ticket Cosmic
Brachydios Pallium (MH3U)
Volcano
Location: Area 9, halfway up the trail
Exchanged Item
Received Item
Gifts
Powderstone
Cold Drink

First-aid Med
Ration
Old Pickaxe
Iron Pickaxe
Adamant Pill
Psychoserum
Cool Drink
Mega Pickaxe
EZ Shock Trap
Tuna Bait
Felvine Bomb
Poison Smoke Bomb
Immunizer

Wyvern Tears
Mega Pickaxe
Drink Ticket
Hot Spring Egg
VE Ticket
Max Potion
VE Ticket Bronze
Volvi Rickrack
VE Ticket Silver
Uragaan Marrow
VE Ticket Gold
Uragaan Ruby
VE Ticket Cosmic
Uragaan Pallium
Misty Peaks
Location: Basecamp
Exchanged Item
Received Item
Gifts
Gargwa egg
Jumbo pearl
Golden Gargwa egg
Wonderful Beak
Royal Honey
Mega Fishing Fly
Wyvern Egg
Dash Juice
VE Ticket
Dash Juice
VE Ticket Deluxe
Mega Dash Juice
VE Ticket Bronze
Flintstone
VE Ticket Silver
Vivid Feather
VE Ticket Gold
Zinogre Jasper
VE Ticket Cosmic
Zin Skymerald
Monster Hunter Classic
VEGGIE ELDER TRADING GUIDE
| Veggie Elder Location | Item Traded | Normal Received | Rare Received |
| --- | --- | --- | --- |
| Snowy Mountains | Carnivore Egg | Potion | Mega Potion |
| Snowy Mountains | Sootstone Ore | Potion | Mega Potion |
| Snowy Mountains | Khezu Whelp | Khz Whlp Ice Crm | Khz Whlp Ice Crm |
| Snowy Mountains | Insect Husk | Mountain Herbs | Mountain Herbs |
| Snowy Mountains | Garbage | Mountain Herbs | Mountain Herbs |
| Snowy Mountains | Burnt Fish | Mountain Herbs | Mountain Herbs |
| Snowy Mountains | Burnt Meat | Mountain Herbs | Mountain Herbs |
| Snowy Mountains | Sleep Herb | Mountain Herbs | Hot Drink |
| Snowy Mountains | Bone | Mountain Herbs | Hot Pepper |
| Snowy Mountains | Bounce Bomb | Bounce Bomb+ | Bounce Bomb+ |
| Snowy Mountains | Ice Crystal | Dung | WyvernDroppings |
| Snowy Mountains | Sm Monster Bone | Hot Drink | Hot Meat |
| Snowy Mountains | Throwing Knife | Spicy Mushroom | Energy Drink |
| Snowy Mountains | Black Pearl | Gourmet Fish+ | Killer Beetle |
| Snowy Mountains | Small Goldenfish | Carpenterbug | Goldenfish Bait |
| Snowy Mountains | Akito Jewel | Flashbug | Thunderbug |
| Snowy Mountains | Frog | Thawing Agent | Carpenterbug |
| Snowy Mountains | Firestone | Demon Flute | Health Flute |
| Snowy Mountains | Flat Ruststone | Vespoid Wing | Vespoid Shell |
| Snowy Mountains | Ruststone | Hornetaur Wing | Hornetaur Shell |
| Snowy Mountains | Frozen Berry | Exciteshroom | Toadstool |
| Snowy Mountains | Daora Tail | Mega Nutrients | Nutrients |
| Snowy Mountains | Kirin Thndr Tail | Hercudrome | Herbal Medicine |
| Snowy Mountains | Giadrome Claw | Tranquilizer | Gunpowder |
| Snowy Mountains | Tigrex Fang | Power Pill | Power Seed |
| Snowy Mountains | Daora Claw | Armor Pill | Armor Seed |
| Snowy Mountains | Congalala Fang | Dragon Toadstool | Cactus flower |
| Snowy Mountains | TwstBlkBlosHrn | Power Juice | Power Extract |
| Snowy Mountains | Blue Kut-Ku Scl | Gourmet Steak | Well-Done Steak |
| Snowy Mountains | Iodrome Skull | Armor Flute | Antidote Flute |
| Snowy Mountains | Teostra Horn | Immunizer | Cold Meat |
| Snowy Mountains | Blk Gravios Skl | Ancient Potion | Max Potion |
| Snowy Mountains | Teostra Shell | Lifepowder | Lifecrystals |
| Snowy Mountains | Garuga Mane | Dragon Toadstool | Antidote |
| Snowy Mountains | Carbalite Ore | King Scarab | Hercudrome |
| Snowy Mountains | Novacrystal | Ancient Potion | Lifecrystals |
| Snowy Mountains | Ancient Fish | Psychoserum | Catalyst |
| Snowy Mountains | ShakaInheritance | King Scarab | Hercudrome |
| Snowy Mountains | Felyne Fur Ruby | Gastronome Tuna | Glutton Tuna |
| Snowy Mountains | Giant Beak | Demondrug | Dragon Toadstool |
| Snowy Mountains | Tigrex Scale+ | Mega Armorskin | Hot Meat |
| Snowy Mountains | Rajang Fang | Vespoid Carapace | Hornetaur Crapce |
| Snowy Mountains | Giadrome Claw+ | Psychoserum | Thawing Agent |
| Snowy Mountains | Gaoren Thoracic | Vespoid InnrWng | HornetaurInnrWng |
| Snowy Mountains | Slvr Rthlos Tail | Mega Demondrug | King Scarab |
| Snowy Mountains | Congalala Claw+ | Armorskin | Mega Potion |
| Snowy Mountains | Top-GrdPlatHorn | Max Potion | Lifepowder |
| Snowy Mountains | KhezuSpecialCut | Pale Extract | Catalyst |
| Snowy Mountains | StrBasariosWing | Vspoid Razorwing | Hornet Razorwing |
| Snowy Mountains | Mellanje Ore | Mega Demondrug | Power Pill |
| Snowy Mountains | Eltalite Ore | Gourmet Steak | Power Extract |
| Snowy Mountains | ShakalakaTreasr+ | Power Extract | Power Juice |
| Snowy Mountains | Dosbiscus | Dung | WyvernDroppings |
| Snowy Mountains | Chaos Mushroom | Honey | Honey |
| Snowy Mountains | Springnight Carp | Net | Net |
| Snowy Mountains | Great Hornfly | Godbug | Monster Fluid |
| Snowy Mountains | Sinister Cloth | Dragon Treasure | Dragon Treasure |
| Snowy Mountains | Dragonmoss | Thunderbug Juice | Monster Fluid |
| Snowy Mountains | Dragonmoss+ | Pale Extract | Monster Broth |
| Snowy Mountains | Dragonwood | Thunderbug Juice | Monster Fluid |
| Snowy Mountains | Dragonwood+ | Thunderbug Juice | Monster Broth |
| Snowy Mountains | Giant Corn | Honey | Honey |
| Snowy Mountains | Tailed Frog | Frog | Frog |
| Snowy Mountains | dummy | Mega Bugnet | Bugnet |
| Snowy Mountains | dummy | Mega Bugnet | Bugnet |
| Snowy Mountains | dummy | dummy | dummy |
| Snowy Mountains | dummy | dummy | dummy |
| Snowy Mountains | dummy | dummy | dummy |
| Snowy Mountains | dummy | Bounce Bomb+ | Bounce Bomb+ |
| Snowy Mountains | dummy | Lg Barrel-Bomb+ | Lg Barrel-Bomb |
| Snowy Mountains | dummy | dummy | dummy |
| Snowy Mountains | Blackbelt Ticket | Mountain Herbs | Mountain Herbs |
| Snowy Mountains | Expert Ticket | Decayed Drgn Scl | Decayed Drgn Scl |
| Snowy Mountains | Kut-Ku Coin | Potion | Herb |
| Snowy Mountains | Congalala Coin | Honey | Blue Mushroom |
| Snowy Mountains | Khezu Coin | Nutrients | Bitterbug |
| Snowy Mountains | Daimyo Coin | Armorskin | Armor Seed |
| Snowy Mountains | Blangonga Coin | Hot Meat | Hot Drink |
| Snowy Mountains | Yian Garuga Coin | Herbal Medicine | Antidote |
| Snowy Mountains | Tigrex Coin | Demondrug | Power Seed |
| Snowy Mountains | Diablos Coin | Mega Potion | Potion |
| Snowy Mountains | Gravios Coin | Armor Pill | Mega Armorskin |
| Snowy Mountains | Kirin Coin | Well-Done Steak | Energy Drink |
| Snowy Mountains | Cephadrome Coin | Cold Meat | Cool Drink |
| Snowy Mountains | Plesioth Coin | Mega Nutrients | Catalyst |
| Snowy Mountains | Shogun Coin | Gourmet Steak | Power Juice |
| Snowy Mountains | Fire Coin | Power Pill | Mega Demondrug |
| Snowy Mountains | Rajang Coin | Max Potion | Immunizer |
| Snowy Mountains | BlackBeltCoinG | Mega Armorskin | Armor Flute |
| Snowy Mountains | Expert Coin G | Mega Demondrug | Demon Flute |
| Snowy Mountains | Warrior Coin G | Lifepowder | Health Flute |
| Snowy Mountains | VeggieElderTcket | Armorskin | Armor Seed |
| Snowy Mountains | VeggieElderTckt+ | Mega Armorskin | Armor Pill |
| Snowy Mountains | VegElderTcktBrz | Blangonga Fang | Blangonga Fang |
| Snowy Mountains | VegElderTcktSlv | Pale Bone | Pale Bone |
| Snowy Mountains | VegElderTcktGld | Daora Jewel | Daora Jewel |
| Snowy Mountains | VegElderTcktSky | HvnlyTigrexScale | HvnlyTigrexScale |
| Desert | Herbivore Egg | Potion | Mega Potion |
| Desert | Insect Husk | Tropical Berry | Tropical Berry |
| Desert | Garbage | Tropical Berry | Tropical Berry |
| Desert | Burnt Fish | Tropical Berry | Tropical Berry |
| Desert | Burnt Meat | Tropical Berry | Tropical Berry |
| Desert | Fire Herb | Tropical Berry | Ice Crystal |
| Desert | Cactus Flower | Tropical Berry | Ice Crystal |
| Desert | Bounce Bomb | Bounce Bomb+ | Bounce Bomb+ |
| Desert | Barrel Lid | Machalite Ore | Suiko Jewel |
| Desert | ShakalakaTreasre | Suiko Jewel | Machalite Ore |
| Desert | Lg Monster Bone | Earth Crystal | Iron Ore |
| Desert | Sm Monster Bone | Ice Crystal | Iron Ore |
| Desert | Bughopper | Disk Stone | Iron Ore |
| Desert | Mystery Bone | Stone | Disk Stone |
| Desert | Sleepyfish | Iron Ore | Disk Stone |
| Desert | Sunset Herb | Disk Stone | Stone |
| Desert | Antidote Herb | Stone | Disk Stone |
| Desert | Unknown Skull | Iron Ore | Disk Stone |
| Desert | Antiseptic Stone | Suiko Jewel | Suiko Jewel |
| Desert | Dragon Toadstool | Earth Crystal | Machalite Ore |
| Desert | Frozen Berry | Earth Crystal | Machalite Ore |
| Desert | Remobra Skull | Iron Ore | Disk Stone |
| Desert | Vespoid Shell | Earth Crystal | Machalite Ore |
| Desert | Large Ruststone | Machalite Ore | Armor Stone |
| Desert | Small Ruststone | Machalite Ore | Armor Stone |
| Desert | Tuna Bait | Iron Ore | Machalite Ore |
| Desert | Teostra Mane | Armor Sphere | Armor Sphere+ |
| Desert | Black Blos Spine | Armor Sphere | Armor Stone |
| Desert | Gendrome Skull | Machalite Ore | Earth Crystal |
| Desert | Pawprint Stamp | Suiko Jewel | Akito Jewel |
| Desert | Black Blos Tail | Machalite Ore | Lightcrystal |
| Desert | Lao-Shan's Horn | Machalite Ore | Firestone |
| Desert | Garuga Tail | Machalite Ore | Lightcrystal |
| Desert | Gaoren Claw | Machalite Ore | Firestone |
| Desert | Congalala Claw | Earth Crystal | Machalite Ore |
| Desert | Ceanataur Pincer | Akito Jewel | Machalite Ore |
| Desert | Tigrex Skull Shl | Machalite Ore | Suiko Jewel |
| Desert | Giadrome Skull | Suiko Jewel | Earth Crystal |
| Desert | Fire Dragon Claw | Firestone | BattlefieldJewel |
| Desert | ShakaInheritance | Armor Sphere | Armor Sphere+ |
| Desert | Grn Plsioth Scl+ | Akito Jewel | LapisLazuliJewel |
| Desert | Teostra Horn+ | Carbalite Ore | Union Ore |
| Desert | Tigrex Fang+ | Firestone | Lightcrystal |
| Desert | Giaprey Scale+ | Machalite Ore | Dragonite Ore |
| Desert | Azure LaoS Horn | Firecell Stone | Novacrystal |
| Desert | Kut-Ku Scale+ | Dragonite Ore | Armor Sphere |
| Desert | Top-GrdRedHorn | Firestone | Dragonite Ore |
| Desert | Thick Kut-Ku Scl | Carbalite Ore | Armor Sphere+ |
| Desert | ThckGrnPlesioScl | LapisLazuliJewel | Novacrystal |
| Desert | TerraCeanatrShl | Union Ore | BattlefieldJewel |
| Desert | Dosbiscus | Dung | WyvernDroppings |
| Desert | Chaos Mushroom | Honey | Honey |
| Desert | Springnight Carp | Net | Net |
| Desert | Great Hornfly | Godbug | Monster Fluid |
| Desert | Sinister Cloth | Dragon Treasure | Dragon Treasure |
| Desert | Dragonmoss | Armor Sphere | Armor Sphere |
| Desert | Dragonmoss+ | Armor Sphere+ | Armor Sphere+ |
| Desert | Dragonwood | Armor Sphere | Armor Sphere |
| Desert | Dragonwood+ | Armor Sphere+ | Armor Sphere+ |
| Desert | Giant Corn | Honey | Honey |
| Desert | Tailed Frog | Frog | Frog |
| Desert | dummy | Mega Bugnet | Bugnet |
| Desert | dummy | Mega Bugnet | Bugnet |
| Desert | dummy | dummy | dummy |
| Desert | dummy | dummy | dummy |
| Desert | dummy | dummy | dummy |
| Desert | dummy | Bounce Bomb+ | Bounce Bomb+ |
| Desert | dummy | Lg Barrel-Bomb+ | Lg Barrel-Bomb |
| Desert | dummy | dummy | dummy |
| Desert | Blackbelt Ticket | Tropical Berry | Tropical Berry |
| Desert | Expert Ticket | Decayed Drgn Scl | Decayed Drgn Scl |
| Desert | Kut-Ku Coin | Disk Stone | Stone |
| Desert | Congalala Coin | Iron Ore | Disk Stone |
| Desert | Khezu Coin | Suiko Jewel | Ice Crystal |
| Desert | Daimyo Coin | Earth Crystal | Iron Ore |
| Desert | Blangonga Coin | Ice Crystal | Earth Crystal |
| Desert | Yian Garuga Coin | Machalite Ore | Iron Ore |
| Desert | Tigrex Coin | Suiko Jewel | Machalite Ore |
| Desert | Diablos Coin | Machalite Ore | Suiko Jewel |
| Desert | Gravios Coin | Akito Jewel | Firestone |
| Desert | Kirin Coin | Suiko Jewel | Lightcrystal |
| Desert | Cephadrome Coin | Iron Ore | Disk Stone |
| Desert | Plesioth Coin | Earth Crystal | Iron Ore |
| Desert | Shogun Coin | Akito Jewel | Black Pearl |
| Desert | Fire Coin | Machalite Ore | Akito Jewel |
| Desert | Rajang Coin | BattlefieldJewel | Firestone |
| Desert | BlackBeltCoinG | Carbalite Ore | Rainbow Ore |
| Desert | Expert Coin G | Rainbow Ore | Lightcrystal |
| Desert | Warrior Coin G | Union Ore | Novacrystal |
| Desert | VeggieElderTcket | Demondrug | Power Seed |
| Desert | VeggieElderTckt+ | Mega Demondrug | Power Pill |
| Desert | VegElderTcktBrz | Plesioth Fin | Plesioth Fin |
| Desert | VegElderTcktSlv | Monoblos Heart | Monoblos Heart |
| Desert | VegElderTcktGld | Fire Drgn Jwl | Fire Drgn Jwl |
| Desert | VegElderTcktSky | HvnlyGaorenShell | HvnlyGaorenShell |
| Jungle | WyvernEgg | Potion | Mega Potion |
| Jungle | Carnivore Egg | Potion | Mega Potion |
| Jungle | Insect Husk | Special Mushroom | Special Mushroom |
| Jungle | Garbage | Special Mushroom | Special Mushroom |
| Jungle | Burnt Fish | Special Mushroom | Special Mushroom |
| Jungle | Burnt Meat | Special Mushroom | Special Mushroom |
| Jungle | Ivy | Special Mushroom | Bone |
| Jungle | Parashroom | Special Mushroom | Sm Bone Husk |
| Jungle | Bounce Bomb | Bounce Bomb+ | Bounce Bomb+ |
| Jungle | Sushifish | Lg Bone Husk | Sm Bone Husk |
| Jungle | Sleepyfish | Sm Monster Bone | Unknown Skull |
| Jungle | Spiderweb | Sm Bone Husk Lg | Bone Husk |
| Jungle | Thunderbug | Giant Bone | Sharp Claw |
| Jungle | Vespoid Abdomen | Paralysis Sac | Unknown Skull |
| Jungle | Yambug | Sharp Claw | Bone |
| Jungle | Pin Tuna | Brute Bone | Lg Bone Husk |
| Jungle | Armor Seed | Sm Bone Husk | Unknown Skull |
| Jungle | Felvine | Mystery Bone | Bone |
| Jungle | Suiko Jewel | Med Monster Bone | Anteka Pelt |
| Jungle | Spicy Mushroom | Sm Monster Bone | Giant Bone |
| Jungle | Arrowana Bait | Bullfango Pelt | Sm Bone Husk |
| Jungle | Speartuna | Black Pearl | Piscine Fang |
| Jungle | BattlefieldJewel | Lg Monster Bone | Thunderbug Juice |
| Jungle | Killer Beetle | Giaprey Hide | Bullfango Pelt |
| Jungle | Small Ruststone | Remobra Skin | Striped Skin |
| Jungle | Ruststone Rod | Velocidrome Hide | Velocidrome Hide |
| Jungle | Sm Hermitaur Shl | Giaprey Scale | Velociprey Scale |
| Jungle | Grn Plesioth Fin | Genprey Hide | Plesioth Scale |
| Jungle | Sharpened Beak | Cephalos Scale | Cephalos Fin |
| Jungle | Bulldrome Tusk | Blango Pelt | Bulldrome Hide |
| Jungle | Bullfango Head | Vespoid Wing | Hornetaur Wing |
| Jungle | Ceanataur Leg | Rubbery Hide | Plesioth Fin |
| Jungle | Blangonga Tail | Blangonga Pelt | Hermitaur Shell |
| Jungle | Lunastra Tail | Lunastra Horn | Gravios Shell |
| Jungle | Lao-Shan's Claw | Lao-Shan's Scale | Sm Lobstershell |
| Jungle | Mosswine Hide | Kelbi Hide | Velociprey Hide |
| Jungle | Gypceros Head | Flabby Hide | Hornetaur Shell |
| Jungle | Diablos Tail | Monoblos Shell | Blood Red Horn |
| Jungle | Chameleos Claw | Basarios Shell | Tigrex Claw |
| Jungle | ShakaInheritance | Electro Sac | Paralysis Sac |
| Jungle | Grn Plsioth Fin+ | Ioprey Hide | Cephalos Scale+ |
| Jungle | Velociprey Scle+ | High Qualty Pelt | Ioprey Hide |
| Jungle | Blue Kut-Ku Scl+ | Blango Pelt+ | Genprey Scale+ |
| Jungle | Slvr Rthlos Scl+ | Rubbery Hide+ | Ioprey Hide+ |
| Jungle | Rajang Tail | Fire Dragon Scl | Firecell Stone |
| Jungle | Lao-Shan's Ruby | ElderDragonBlood | WyvernStone |
| Jungle | Rejuvenated Beak | Coral Cphlos Scl | Coral Cphlos Fin |
| Jungle | LeatherNargaTail | Black Narga Pelt | NargaCuttingWing |
| Jungle | SpecLavasioFin+ | ThckPlesiothScl | HvyPiscineFang |
| Jungle | Lucky Kut-Ku Ear | Kut-ku Hvy Cpc | ThkBlueKut-KuScl |
| Jungle | LthrC.BlangoTail | Lg Pelagus Fang | E.CongalalaPelt+ |
| Jungle | Azure LaoS Claw | HvyRathianShell | HvyRathalosShl |
| Jungle | Dosbiscus | Dung | WyvernDroppings |
| Jungle | Chaos Mushroom | Honey | Honey |
| Jungle | Springnight Carp | Net | Net |
| Jungle | Great Hornfly | Godbug | Monster Fluid |
| Jungle | Sinister Cloth | Dragon Treasure | Dragon Treasure |
| Jungle | Dragonmoss | Lg Monster Bone | Eldr Dragon Bone |
| Jungle | Dragonmoss+ | Monster Bone+ | Hrd Monster Bone |
| Jungle | Dragonwood | Lg Monster Bone | Eldr Dragon Bone |
| Jungle | Dragonwood+ | Monster Bone+ | Hrd Monster Bone |
| Jungle | Giant Corn | Honey | Honey |
| Jungle | Tailed Frog | Frog | Frog |
| Jungle | dummy | Mega Bugnet | Bugnet |
| Jungle | dummy | Mega Bugnet | Bugnet |
| Jungle | dummy | dummy | dummy |
| Jungle | dummy | dummy | dummy |
| Jungle | dummy | dummy | dummy |
| Jungle | dummy | Bounce Bomb+ | Bounce Bomb+ |
| Jungle | dummy | Lg Barrel-Bomb+ | Lg Barrel-Bomb |
| Jungle | dummy | dummy | dummy |
| Jungle | Blackbelt Ticket | Special Mushroom | Special Mushroom |
| Jungle | Expert Ticket | Decayed Drgn Scl | Decayed Drgn Scl |
| Jungle | Kut-Ku Coin | Kut-Ku Scale | Kut-Ku Shell |
| Jungle | Congalala Coin | Congalala Pelt | Congalala Fang |
| Jungle | Khezu Coin | Flabby Hide | Pale Extract |
| Jungle | Daimyo Coin | Hermitaur Shell | Hermitaur Claw |
| Jungle | Blangonga Coin | Blangonga Pelt | Blangonga Whiskr |
| Jungle | Yian Garuga Coin | Garuga Scale | Garuga Shell |
| Jungle | Tigrex Coin | Tigrex Scale | Tigrex Shell |
| Jungle | Diablos Coin | Diablos Shell | Blos Fang |
| Jungle | Gravios Coin | Gravios Shell | Lg Monster Bone |
| Jungle | Kirin Coin | Kirin Mane | Kirin Horn |
| Jungle | Cephadrome Coin | Cephalos Scale | Cephalos Fin |
| Jungle | Plesioth Coin | Plesioth Scale | Plesioth Fin |
| Jungle | Shogun Coin | Ceanataur Shell | Ceanataur Leg |
| Jungle | Fire Coin | Rathalos Scale | Rathalos Shell |
| Jungle | Rajang Coin | Commendation | Blk Rajang Pelt |
| Jungle | BlackBeltCoinG | OrangeHypnoPelt+ | PlumD.HermitrShl |
| Jungle | Expert Coin G | C.BlangongaPelt+ | ThickNargaScale |
| Jungle | Warrior Coin G | ThckLavasiothScl | TerraCeanatrShl |
| Jungle | VeggieElderTcket | Power Juice | Well-Done Steak |
| Jungle | VeggieElderTckt+ | Mega Juice | Gourmet Steak |
| Jungle | VegElderTcktBrz | Vibrant Pelt | Vibrant Pelt |
| Jungle | VegElderTcktSlv | Rathian Plate | Rathian Plate |
| Jungle | VegElderTcktGld | Rathian Ruby | Rathian Ruby |
| Jungle | VegElderTcktSky | Lao-ShanHvnlyScl | Lao-ShanHvnlyScl |
| Swamp | Sootstone Ore | Potion | Mega Potion |
| Swamp | Quartz Ore | Potion | Mega Potion |
| Swamp | Khezu Whelp | Khz Whlp Ice Crm | Khz Whlp Ice Crm |
| Swamp | Insect Husk | Special Mushroom | Special Mushroom |
| Swamp | Garbage | Special Mushroom | Special Mushroom |
| Swamp | Burnt Fish | Special Mushroom | Special Mushroom |
| Swamp | Burnt Meat | Special Mushroom | Special Mushroom |
| Swamp | Toadstool | Special Mushroom | Hot Drink |
| Swamp | Conga Pelt | Special Mushroom | Antidote |
| Swamp | Bounce Bomb | Bounce Bomb+ | Bounce Bomb+ |
| Swamp | Mystery Bone | Antidote Herb | Herb |
| Swamp | Sleepyfish | Nitroshroom | Exciteshroom |
| Swamp | Kut-Ku Scale | Gunpowder | Antidote |
| Swamp | Lost Umbrella | Glutton Tuna | Power Extract |
| Swamp | Snakebee Larva | Bomberry | Armor Seed |
| Swamp | Sm Monster Bone | Cool Drink | Cold Meat |
| Swamp | Disk Stone | Antidote | Exciteshroom |
| Swamp | Scatterfish | Godbug | Antiseptic Stone |
| Swamp | Ice Crystal | Dung | WyvernDroppings |
| Swamp | Cricket | Blue Mushroom | Bitterbug |
| Swamp | Paintberry | Sap Plant | Fire Herb |
| Swamp | Spicy Mushroom | Exciteshroom | Toadstool |
| Swamp | Goldenfish Bait | Armor Seed | Armorskin |
| Swamp | Ruststone Rod | Vespoid Wing | Vespoid Shell |
| Swamp | AncientFlatstone | Hornetaur Wing | Hornetaur Shell |
| Swamp | ShakalakaTreasre | Carpenterbug | Catalyst |
| Swamp | Dragonite Ore | Hercudrome | Killer Beetle |
| Swamp | Lightcrystal | Flashbug | Carpenterbug |
| Swamp | Sm Ceanataur Shl | Power Seed | Tranquilizer |
| Swamp | Vibrant Pelt | Mega Nutrients | Nutrients |
| Swamp | Velocidrome Head | Mega Potion | Killer Beetle |
| Swamp | Chameleos Tail | Mega Demondrug | Hot Meat |
| Swamp | Blangonga Fang | Killer Beetle | Health Flute |
| Swamp | Twisted Horn | Demondrug | Mega Demondrug |
| Swamp | Anteka Antlers | Well-Done Steak | Rare Steak |
| Swamp | Teostra Tail | Immunizer | Cold Meat |
| Swamp | Azur Rthlos Tail | Hornetaur Shell | Vespoid Shell |
| Swamp | Blos Fang | Psychoserum | Herbal Medicine |
| Swamp | Hornetaur Head | Antidote Flute | Demon Flute |
| Swamp | ShakaInheritance | King Scarab | Hercudrome |
| Swamp | LapisLazuliJewel | Gourmet Steak | Power Extract |
| Swamp | Ceanataur Claw+ | Gourmet Fish+ | Gourmet Fish |
| Swamp | Chameleos Spike | Hornetaur Carapce | Vespoid Carapace |
| Swamp | Slvr Rthlos Wing | HornetaurInnrWng | Vespoid InnrWng |
| Swamp | Lg Lobstershell | Mega Potion | King Scarab |
| Swamp | Rajang Claw | Power Juice | Mega Juice |
| Swamp | Blazing Fire Sac | Lifepowder | Fire Dragon Pwdr |
| Swamp | DeadlyPoisonSac | Power Extract | Power Juice |
| Swamp | TerraCeanatrClaw | Mega Demondrug | Power Pill |
| Swamp | HrdE.CongaClaw | Rare Scarab | King Scarab |
| Swamp | Lightning Sac | Thunderbug Jelly | Pale Extract |
| Swamp | Dosbiscus | Dung | WyvernDroppings |
| Swamp | Chaos Mushroom | Honey | Honey |
| Swamp | Springnight Carp | Net | Net |
| Swamp | Great Hornfly | Godbug | Monster Fluid |
| Swamp | Sinister Cloth | Dragon Treasure | Dragon Treasure |
| Swamp | Dragonmoss | Thunderbug Juice | Monster Fluid |
| Swamp | Dragonmoss+ | Pale Extract | Monster Broth |
| Swamp | Dragonwood | Thunderbug Juice | Monster Fluid |
| Swamp | Dragonwood+ | Pale Extract | Monster Broth |
| Swamp | Giant Corn | Honey | Honey |
| Swamp | Tailed Frog | Frog | Frog |
| Swamp | dummy | Mega Bugnet | Bugnet |
| Swamp | dummy | Mega Bugnet | Bugnet |
| Swamp | dummy | dummy | dummy |
| Swamp | dummy | dummy | dummy |
| Swamp | dummy | dummy | dummy |
| Swamp | dummy | Bounce Bomb+ | Bounce Bomb+ |
| Swamp | dummy | Lg Barrel-Bomb+ | Lg Barrel-Bomb |
| Swamp | dummy | dummy | dummy |
| Swamp | Blackbelt Ticket | Special Mushroom | Special Mushroom |
| Swamp | Expert Ticket | Decayed Drgn Scl | Decayed Drgn Scl |
| Swamp | Kut-Ku Coin | Potion | Herb |
| Swamp | Congalala Coin | Honey | Blue Mushroom |
| Swamp | Khezu Coin | Nutrients | Bitterbug |
| Swamp | Daimyo Coin | Armorskin | Armor Seed |
| Swamp | Blangonga Coin | Hot Meat | Hot Drink |
| Swamp | Yian Garuga Coin | Herbal Medicine | Antidote |
| Swamp | Tigrex Coin | Demondrug | Power Seed |
| Swamp | Diablos Coin | Mega Potion | Potion |
| Swamp | Gravios Coin | Armor Pill | Mega Armorskin |
| Swamp | Kirin Coin | Well-Done Steak | Energy Drink |
| Swamp | Cephadrome Coin | Cold Meat | Cool Drink |
| Swamp | Plesioth Coin | Mega Nutrients | Catalyst |
| Swamp | Shogun Coin | Gourmet Steak | Power Juice |
| Swamp | Fire Coin | Power Pill | Mega Demondrug |
| Swamp | Rajang Coin | Max Potion | Immunizer |
| Swamp | BlackBeltCoinG | Mega Armorskin | Armor Flute |
| Swamp | Expert Coin G | Mega Demondrug | Demon Flute |
| Swamp | Warrior Coin G | Lifepowder | Health Flute |
| Swamp | VeggieElderTcket | Nutrients | Potion |
| Swamp | VeggieElderTckt+ | Mega Nutrients | Mega Potion |
| Swamp | VegElderTcktBrz | Lightcrystal | Lightcrystal |
| Swamp | VegElderTcktSlv | Gravios Skl Shl | Gravios Skl Shl |
| Swamp | VegElderTcktGld | Chameleos Jewel | Chameleos Jewel |
| Swamp | VegElderTcktSky | HvnlyBlkGraviShl | HvnlyBlkGraviShl |
| Forest & Hills | WyvernEgg | Potion | Mega Potion |
| Forest & Hills | Insect Husk | Special Mushroom | Special Mushroom |
| Forest & Hills | Garbage | Special Mushroom | Special Mushroom |
| Forest & Hills | Burnt Fish | Special Mushroom | Special Mushroom |
| Forest & Hills | Burnt Meat | Special Mushroom | Special Mushroom |
| Forest & Hills | Scatternut | Special Mushroom | Bone |
| Forest & Hills | Disk Stone | Special Mushroom | Bone |
| Forest & Hills | Bounce Bomb | Bounce Bomb+ | Bounce Bomb+ |
| Forest & Hills | Gunpowder | Lg Bone Husk | Sm Bone Husk |
| Forest & Hills | Rumblefish | Unknown Skull | Bone |
| Forest & Hills | Toadstool | Sm Bone Husk | Unknown Skull |
| Forest & Hills | Dragon Toadstool | Sm Monster Bone | Unknown Skull |
| Forest & Hills | Carpenterbug | Sharp Claw | Anteka Pelt |
| Forest & Hills | Earth Crystal | Sm Monster Bone | Giant Bone |
| Forest & Hills | Spicy Mushroom | Lg Bone Husk | Sm Bone Husk |
| Forest & Hills | ShakalakaTreasre | Bullfango Pelt | Giaprey Hide |
| Forest & Hills | Bomb Arrowana | Sharp Claw | Bone |
| Forest & Hills | Suiko Jewel | Velociprey Scale | Kelbi Horn |
| Forest & Hills | Power Seed | Sharp Claw | Lg Bone Husk |
| Forest & Hills | Burst Arrowana | Lg Bone Husk | Sm Monster Bone |
| Forest & Hills | Fire Herb | Unknown Skull | Mystery Bone |
| Forest & Hills | Ruststone | Remobra Skin | Striped Skin |
| Forest & Hills | Large Ruststone | Giadrome Hide | Iodrome Hide |
| Forest & Hills | Needleberry | Mystery Bone | Bone |
| Forest & Hills | Rathalos Tail | Ceanataur Shell | Ioprey Scale |
| Forest & Hills | Velocidrome Claw | Genprey Hide | Vespoid Wing |
| Forest & Hills | Rathalos Webbing | Pnk Rathian Scl | Tigrex Shell |
| Forest & Hills | Chameleos Hide | Monster Bone+ | Eldr Dragon Bone |
| Forest & Hills | Chameleos Horn | Fire Drgn Webbng | Kirin Hide |
| Forest & Hills | Ceanataur Claw | Tigrex Scale | Garuga Shell |
| Forest & Hills | Garuga Ear | Kut-Ku Ear | Kut-Ku Webbing |
| Forest & Hills | Daora Horn | Daora Shell | DaoraDragonScale |
| Forest & Hills | Tigrex Tail | Plesioth Fin | Blangonga Whiskr |
| Forest & Hills | Basarios Wing | WyvernSkull Shl | Iodrome Hide |
| Forest & Hills | Gravios Skl Shl | Rathian Shell | Rathian Spike |
| Forest & Hills | Azur Rthlos Wing | Monoblos Spine | FireWyvrn Marrow |
| Forest & Hills | Felyne Fur Ruby | Bullfango Pelt | Kut-Ku Scale |
| Forest & Hills | Ancient Fish | Lg Monster Bone | Thunderbug Juice |
| Forest & Hills | ShakaInheritance | Flame Sac | Poison Sac |
| Forest & Hills | Akantor Tail | Azure LaoS Shell | FireWyvrn BrnStm |
| Forest & Hills | Azre Rthlos Scl+ | Toxin Sac Blk | Gravios Shl |
| Forest & Hills | Kut-Ku Carapace | Genprey Hide+ | HornetaurInnrWng |
| Forest & Hills | Velocidrome Clw+ | Rathian Scale | Rathalos Scale |
| Forest & Hills | Blk Blos Thracic | Stout Bone | Congalala Pelt+ |
| Forest & Hills | Splendid Beak | Bulldrome Hide+ | Giaprey Hide+ |
| Forest & Hills | Gold Rajang Pelt | Inferno Sac | Hrd Monster Bone |
| Forest & Hills | Hypno Bezoar | Sleep Sac | Rathian Spike |
| Forest & Hills | HvyAzurRthlsShl | HvyBlueKut-KuShl | Str Kut-Ku Wing |
| Forest & Hills | VespoidQn'sCrown | Rathian Scale+ | Rathalos Scale+ |
| Forest & Hills | ThickGarugaScale | ThkBullfangoPelt | RobustWyvernBone |
| Forest & Hills | Dosbiscus | Dung | WyvernDroppings |
| Forest & Hills | Chaos Mushroom | Honey | Honey |
| Forest & Hills | Springnight Carp | Net | Net |
| Forest & Hills | Great Hornfly | Godbug | Monster Fluid |
| Forest & Hills | Sinister Cloth | Dragon Treasure | Dragon Treasure |
| Forest & Hills | Dragonmoss | Lg Monster Bone | Eldr Dragon Bone |
| Forest & Hills | Dragonmoss+ | Monster Bone+ | Hrd Monster Bone |
| Forest & Hills | Dragonwood | Lg Monster Bone | Eldr Dragon Bone |
| Forest & Hills | Dragonwood+ | Monster Bone+ | Hrd Monster Bone |
| Forest & Hills | Giant Corn | Honey | Honey |
| Forest & Hills | Tailed Frog | Frog | Frog |
| Forest & Hills | dummy | Mega Bugnet | Bugnet |
| Forest & Hills | dummy | Mega Bugnet | Bugnet |
| Forest & Hills | dummy | dummy | dummy |
| Forest & Hills | dummy | dummy | dummy |
| Forest & Hills | dummy | dummy | dummy |
| Forest & Hills | dummy | Bounce Bomb+ | Bounce Bomb+ |
| Forest & Hills | dummy | Lg Barrel-Bomb+ | Lg Barrel-Bomb |
| Forest & Hills | dummy | dummy | dummy |
| Forest & Hills | Blackbelt Ticket | Special Mushroom | Special Mushroom |
| Forest & Hills | Expert Ticket | Decayed Drgn Scl | Decayed Drgn Scl |
| Forest & Hills | Kut-Ku Coin | Kut-Ku Scale | Kut-Ku Shell |
| Forest & Hills | Congalala Coin | Congalala Pelt | Congalala Fang |
| Forest & Hills | Khezu Coin | Flabby Hide | Pale Extract |
| Forest & Hills | Daimyo Coin | Hermitaur Shell | Hermitaur Claw |
| Forest & Hills | Blangonga Coin | Blangonga Pelt | Blangonga Whiskr |
| Forest & Hills | Yian Garuga Coin | Garuga Scale | Garuga Shell |
| Forest & Hills | Tigrex Coin | Tigrex Scale | Tigrex Shell |
| Forest & Hills | Diablos Coin | Diablos Shell | Blos Fang |
| Forest & Hills | Gravios Coin | Gravios Shell | Lg Monster Bone |
| Forest & Hills | Kirin Coin | Kirin Mane | Kirin Horn |
| Forest & Hills | Cephadrome Coin | Cephalos Scale | Cephalos Fin |
| Forest & Hills | Plesioth Coin | Plesioth Scale | Plesioth Fin |
| Forest & Hills | Shogun Coin | Ceanataur Shell | Ceanataur Leg |
| Forest & Hills | Fire Coin | Rathalos Scale | Rathalos Shell |
| Forest & Hills | Rajang Coin | Commendation | Blk Rajang Pelt |
| Forest & Hills | BlackBeltCoinG | OrangeHypnoPelt+ | E.CongalalaPelt+ |
| Forest & Hills | Expert Coin G | C.BlangongaPelt+ | ThickNargaScale |
| Forest & Hills | Warrior Coin G | ThckLavasiothScl | TerraCeanatrClaw |
| Forest & Hills | VeggieElderTcket | Max Potion | Lifecrystals |
| Forest & Hills | VeggieElderTckt+ | Ancient Potion | Lifepowder |
| Forest & Hills | VegElderTcktBrz | Monster Bone+ | Monster Bone+ |
| Forest & Hills | VegElderTcktSlv | Rathalos Plate | Rathalos Plate |
| Forest & Hills | VegElderTcktGld | Rathalos Ruby | Rathalos Ruby |
| Forest & Hills | VegElderTcktSky | HvnlyRathianScl | HvnlyRathalosScl |
| Old Jungle | Insect Husk | Special Mushroom | Special Mushroom |
| Old Jungle | Garbage | Special Mushroom | Special Mushroom |
| Old Jungle | Burnt Fish | Special Mushroom | Special Mushroom |
| Old Jungle | Burnt Meat | Special Mushroom | Special Mushroom |
| Old Jungle | Sap Plant | Special Mushroom | Hot Drink |
| Old Jungle | Conga Pelt | Special Mushroom | Deodorant |
| Old Jungle | Bounce Bomb | Bounce Bomb+ | Bounce Bomb+ |
| Old Jungle | Disk Stone | Stone | Green Seed |
| Old Jungle | Sleepyfish | Parashroom | Exciteshroom |
| Old Jungle | Iodrome Hide | Gunpowder | Antidote |
| Old Jungle | Unknown Skull | Glutton Tuna | Scatterfish |
| Old Jungle | Kelbi Horn | Bomberry | Armor Seed |
| Old Jungle | Sm Monster Bone | Hot Drink | Hot Meat |
| Old Jungle | Disk Stone | Exciteshroom | Toadstool |
| Old Jungle | Thunderbug | Godbug | Antiseptic Stone |
| Old Jungle | Machalite Ore | Carpenterbug | Honey |
| Old Jungle | Firefly | Blue Mushroom | Bitterbug |
| Old Jungle | Nitroshroom | Paintberry | Fire Herb |
| Old Jungle | Frozen Berry | Exciteshroom | Toadstool |
| Old Jungle | Small Goldenfish | Armor Seed | Armorskin |
| Old Jungle | Large Ruststone | Vespoid Wing | Vespoid Shell |
| Old Jungle | Flat Ruststone | Hornetaur Wing | Hornetaur Shell |
| Old Jungle | Vespoid Abdomen | Honey | Catalyst |
| Old Jungle | Dragonite Ore | Honey | Psychoserum |
| Old Jungle | Black Pearl | Flashbug | Carpenterbug |
| Old Jungle | Bomb Arrowana | Power Seed | Tranquilizer |
| Old Jungle | Bullfango Head | Honey | Bitterbug |
| Old Jungle | Fire Dragon Scl | Demondrug | Hot Meat |
| Old Jungle | Blangonga Fang | Killer Beetle | Health Flute |
| Old Jungle | TwstBlkBlosHrn | Demondrug | Mega Demondrug |
| Old Jungle | Gendrome Skull | Well-Done Steak | Rare Steak |
| Old Jungle | Daora Horn | Immunizer | Cold Meat |
| Old Jungle | Remobra Skull | Hornetaur Shell | Vespoid Shell |
| Old Jungle | Gravios Shell | Antiseptic Stone | Herbal Medicine |
| Old Jungle | Velocidrome Claw | Honey | Godbug |
| Old Jungle | Congalala Fang | Mega Potion | Killer Beetle |
| Old Jungle | Monster Bone+ | Honey | Nutrients |
| Old Jungle | Thunder Sac | Monster Broth | Thunderbug Juice |
| Old Jungle | Pnk Rathian Scl+ | Monster Fluid | Armor Pill |
| Old Jungle | Toxin Sac | Hercudrome | Rare Scarab |
| Old Jungle | Novacrystal | Gourmet Steak | Power Extract |
| Old Jungle | Hermitaur Claw+ | Gourmet Fish+ | Gourmet Fish |
| Old Jungle | Slvr Rthlos Tail | Hornetaur Crapce | Vespoid Carapace |
| Old Jungle | Fire Dragon Pwdr | HornetaurInnrWng | Vespoid InnrWng |
| Old Jungle | Pale Khezu Steak | Thunderbug Juice | Rare Scarab |
| Old Jungle | Kirin Azure Horn | Power Juice | Mega Juice |
| Old Jungle | NarugaTail Power | Extract | Mega Demondrug |
| Old Jungle | PlumD.HermitrClw | Mega Armorskin | Armor Pill |
| Old Jungle | ThckPnkRathnScl | FireWyvernFluid | Catalyst |
| Old Jungle | Purecrystal | Power Extract | Power Juice |
| Old Jungle | Dosbiscus | Dung | WyvernDroppings |
| Old Jungle | Chaos Mushroom | Honey | Honey |
| Old Jungle | Springnight Carp | Net | Net |
| Old Jungle | Great Hornfly | Godbug Monster | Fluid |
| Old Jungle | Sinister Cloth | Dragon Treasure | Dragon Treasure |
| Old Jungle | Dragonmoss | Lifecrystals | Monster Fluid |
| Old Jungle | Dragonmoss+ | Pale Extract | Monster Broth |
| Old Jungle | Dragonwood | Lifecrystals | Monster Fluid |
| Old Jungle | Dragonwood+ | Pale Extract | Monster Broth |
| Old Jungle | Giant Corn | Honey | Honey |
| Old Jungle | Tailed Frog | Frog | Frog |
| Old Jungle | dummy | Mega Bugnet | Bugnet |
| Old Jungle | dummy | Mega Bugnet | Bugnet |
| Old Jungle | dummy | dummy | dummy |
| Old Jungle | dummy | dummy | dummy |
| Old Jungle | dummy | dummy | dummy |
| Old Jungle | dummy | Bounce Bomb+ | Bounce Bomb+ |
| Old Jungle | dummy | Lg Barrel-Bomb+ | Lg Barrel-Bomb |
| Old Jungle | dummy | dummy | dummy |
| Old Jungle | Blackbelt Ticket | Special Mushroom | Special Mushroom |
| Old Jungle | Expert Ticket | Decayed Drgn Scl | Decayed Drgn Scl |
| Old Jungle | Kut-Ku Coin | Potion | Herb |
| Old Jungle | Congalala Coin | Honey | Blue Mushroom |
| Old Jungle | Khezu Coin | Nutrients | Bitterbug |
| Old Jungle | Daimyo Coin | Armorskin | Armor Seed |
| Old Jungle | Blangonga Coin | Hot Meat | Hot Drink |
| Old Jungle | Yian Garuga Coin | Herbal Medicine | Antidote |
| Old Jungle | Tigrex Coin | Demondrug | Power Seed |
| Old Jungle | Diablos Coin | Mega Potion | Potion |
| Old Jungle | Gravios Coin | Armor Pill | Mega Armorskin |
| Old Jungle | Kirin Coin | Well-Done Steak | Energy Drink |
| Old Jungle | Cephadrome Coin | Cold Meat | Cool Drink |
| Old Jungle | Plesioth Coin | Mega Nutrients | Catalyst |
| Old Jungle | Shogun Coin | Gourmet Steak | Power Juice |
| Old Jungle | Fire Coin | Power Pill | Mega Demondrug |
| Old Jungle | Rajang Coin | Max Potion | Immunizer |
| Old Jungle | BlackBeltCoinG | Mega Armorskin | Armor Flute |
| Old Jungle | Expert Coin G | Mega Demondrug | Demon Flute |
| Old Jungle | Warrior Coin G | Lifepowder | Health Flute |
| Old Jungle | VeggieElderTcket | Lg Barrel-Bomb | Sm Barrel-Bomb |
| Old Jungle | VeggieElderTckt+ | Lg Barrel-Bomb+ | Sm Barrel-Bomb+ |
| Old Jungle | VegElderTcktBrz | Hermitaur Claw | Hermitaur Claw |
| Old Jungle | VegElderTcktSlv | Majestic Horn | Majestic Horn |
| Old Jungle | VegElderTcktGld | Gravios BrainStm | Gravios BrainStm |
| Old Jungle | VegElderTcktSky | HvnlyNargaScale | HvnlyNargaScale |
| Old Swamp | Quartz Ore | Potion | Mega Potion |
| Old Swamp | Insect Husk | Special Mushroom | Special Mushroom |
| Old Swamp | Garbage | Special Mushroom | Special Mushroom |
| Old Swamp | Burnt Fish | Special Mushroom | Special Mushroom |
| Old Swamp | Burnt Meat | Special Mushroom | Special Mushroom |
| Old Swamp | Toadstool | Special Mushroom | Hot Drink |
| Old Swamp | Herb | Special Mushroom | Antidote |
| Old Swamp | Bounce Bomb | Bounce Bomb+ | Bounce Bomb+ |
| Old Swamp | Screamer | Earth Crystal | Suiko Jewel |
| Old Swamp | ShakalakaTreasre | Earth Crystal | Suiko Jewel |
| Old Swamp | CarapaceonBrains | Earth Crystal | Iron Ore |
| Old Swamp | Carpenterbug | Ice Crystal | Iron Ore |
| Old Swamp | Mega Fishing Fly | Disk Stone | Iron Ore |
| Old Swamp | Brute Bone | Iron Ore | Earth Crystal |
| Old Swamp | Small Goldenfish | Iron Ore | Disk Stone |
| Old Swamp | Sap Plant | Disk Stone | Stone |
| Old Swamp | Hot Pepper | Stone | Disk Stone |
| Old Swamp | WyvernClaw | Iron Ore | Disk Stone |
| Old Swamp | Frozen Berry | Suiko Jewel | Suiko Jewel |
| Old Swamp | Exciteshroom | Earth Crystal | Machalite Ore |
| Old Swamp | Spicy Mushroom | Earth Crystal | Machalite Ore |
| Old Swamp | Killer Beetle | Iron Ore | Earth Crystal |
| Old Swamp | Hornetaur Shell | Earth Crystal | Machalite Ore |
| Old Swamp | Ruststone | Machalite Ore | Armor Stone |
| Old Swamp | Small Ruststone | Machalite Ore | Armor Stone |
| Old Swamp | Remobra Skin | Iron Ore | Machalite Ore |
| Old Swamp | Chameleos Horn | Armor Sphere | Armor Sphere+ |
| Old Swamp | Blk Gravios Skl | Armor Sphere | Armor Stone |
| Old Swamp | Bullfango Head | Machalite Ore | Earth Crystal |
| Old Swamp | Lost Umbrella | Suiko Jewel | Akito Jewel |
| Old Swamp | Blk Gravios Shl | Earth Crystal | Lightcrystal |
| Old Swamp | Lao-Shan's Shell | Machalite Ore | Firestone |
| Old Swamp | Monoblos Heart | Earth Crystal | Lightcrystal |
| Old Swamp | Gaoren Pincer | Earth Crystal | Firestone |
| Old Swamp | Blangonga Tail | Earth Crystal | Machalite Ore |
| Old Swamp | Hermitaur Claw | Machalite Ore | Akito Jewel |
| Old Swamp | Tigrex Tail | Machalite Ore | Suiko Jewel |
| Old Swamp | Iodrome Skull | Suiko Jewel | Earth Crystal |
| Old Swamp | Chameleos Claw | Akito Jewel | BattlefieldJewel |
| Old Swamp | Gastronome Tuna | Armor Sphere | Armor Sphere+ |
| Old Swamp | Garuga Carapace | BattlefieldJewel | LapisLazuliJewel |
| Old Swamp | Chameleos Spike | LapisLazuliJewel | Union Ore |
| Old Swamp | Tigrex Claw+ | Firestone | Lightcrystal |
| Old Swamp | Ioprey Scale+ | Earth Crystal | Dragonite Ore |
| Old Swamp | Gaoren Thoracic | Lightcrystal | Novacrystal |
| Old Swamp | Blue Kut-Ku Scl+ | Armor Stone | Armor Sphere |
| Old Swamp | Lunastra Spike | Union Ore | LapisLazuliJewel |
| Old Swamp | Hvy Monster Bone | Dragonite Ore | BattlefieldJewel |
| Old Swamp | HardGypcerosHead | Carbalite Ore | Novacrystal |
| Old Swamp | StrAlluringWing | LapisLazuliJewel | Novacrystal |
| Old Swamp | SpecLavasioFin+ | Hrd Armor Sphere | Armor Sphere+ |
| Old Swamp | Dosbiscus | Dung | WyvernDroppings |
| Old Swamp | Chaos Mushroom | Honey | Honey |
| Old Swamp | Springnight Carp | Net | Net |
| Old Swamp | Great Hornfly | Godbug | Monster Fluid |
| Old Swamp | Sinister Cloth | Dragon Treasure | Dragon Treasure |
| Old Swamp | Dragonmoss | Armor Sphere | Armor Sphere |
| Old Swamp | Dragonmoss+ | Armor Sphere+ | Armor Sphere+ |
| Old Swamp | Dragonwood | Armor Sphere | Armor Sphere |
| Old Swamp | Dragonwood+ | Armor Sphere+ | Armor Sphere+ |
| Old Swamp | Giant Corn | Honey | Honey |
| Old Swamp | Tailed Frog | Frog | Frog |
| Old Swamp | dummy | Mega Bugnet | Bugnet |
| Old Swamp | dummy | Mega Bugnet | Bugnet |
| Old Swamp | dummy | dummy | dummy |
| Old Swamp | dummy | dummy | dummy |
| Old Swamp | dummy | dummy | dummy |
| Old Swamp | dummy | Bounce Bomb+ | Bounce Bomb+ |
| Old Swamp | dummy | Lg Barrel-Bomb+ | Lg Barrel-Bomb+ |
| Old Swamp | dummy | dummy | dummy |
| Old Swamp | Blackbelt Ticket | Special Mushroom | Special Mushroom |
| Old Swamp | Expert Ticket | Decayed Drgn Scl | Decayed Drgn Scl |
| Old Swamp | Kut-Ku Coin | Disk Stone | Stone |
| Old Swamp | Congalala Coin | Iron Ore | Disk Stone |
| Old Swamp | Khezu Coin | Suiko Jewel | Ice Crystal |
| Old Swamp | Daimyo Coin | Earth Crystal | Iron Ore |
| Old Swamp | Blangonga Coin | Ice Crystal | Earth Crystal |
| Old Swamp | Yian Garuga Coin | Machalite Ore | Armor Stone |
| Old Swamp | Tigrex Coin | Suiko Jewel | Machalite Ore |
| Old Swamp | Diablos Coin | Machalite Ore | Suiko Jewel |
| Old Swamp | Gravios Coin | Akito Jewel | Firestone |
| Old Swamp | Kirin Coin | Suiko Jewel | Lightcrystal |
| Old Swamp | Cephadrome Coin | Iron Ore | Disk Stone |
| Old Swamp | Plesioth Coin | Earth Crystal | Iron Ore |
| Old Swamp | Shogun Coin | Akito Jewel | Black Pearl |
| Old Swamp | Fire Coin | Machalite Ore | Akito Jewel |
| Old Swamp | Rajang Coin | BattlefieldJewel | Firestone |
| Old Swamp | BlackBeltCoinG | Carbalite Ore | Rainbow Ore |
| Old Swamp | Expert Coin G | Rainbow Ore | Lightcrystal |
| Old Swamp | Warrior Coin G | Union Ore | Novacrystal |
| Old Swamp | VeggieElderTcket | Health Flute | Antidote Flute |
| Old Swamp | VeggieElderTckt+ | Armor Flute | Demon Flute |
| Old Swamp | VegElderTcktBrz | Ceanataur Pincer | Ceanataur Pincer |
| Old Swamp | VegElderTcktSlv | Gypceros Head | Gypceros Head |
| Old Swamp | VegElderTcktGld | Lao-Shan's Ruby | Lao-Shan's Ruby |
| Old Swamp | VegElderTcktSky | HvnlyGraviosShl | HvnlyGraviosShl |