1.Always look at the monsters moves,it is important
2.Always keep your weapon sharped or loaded.
3.Take usefull aitems with you.
4.When monster fall on the floor give them the biggest hit you can!
5.When you have your victory dont forget to carve of your enemy.
6.Keep an eye ont he shiny objects the monster drops(Tears or bits of body)
7.To not loose the monster always paint it with the ball.
8.When they limp or run away its a good idea to Get ready for capture or continue killing.
9.Playing in the arena is good training to get used to the monster.
10.Never fear or get nearvous,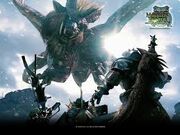 relax.