Ad blocker interference detected!
Wikia is a free-to-use site that makes money from advertising. We have a modified experience for viewers using ad blockers

Wikia is not accessible if you've made further modifications. Remove the custom ad blocker rule(s) and the page will load as expected.
New Weapon Gallery
Anime New Weapon
The first image on top is a new (maybe dragon/fire/just a raw GS), its from a anime named Magister Magi Negi, the sword in the anime is called Ensis Exorcizans.
New Weapon
GS-
Barioth
Jinouga

SA-
Nargacurga
Agnaktor
Black Felyne
Jinouga
Blue-Grey SA

Lance-
R.Ludroth
Jinouga

LS-
Great Jaggi
Jinouga
Wooden(Starter)

GL-
Rathian
Jinouga
Great Jaggi

Hammer-
Jinouga
Brown Barioth

S&S-
Dosufurogi
Jinouga
Wooden (Starter)
Looks like Eternal Strife

DS-
Great Jaggi
Jinouga
Wooden (Starter)

Bowguns-
Qurupeco
Jinouga
Wooden (Starter)
Doboruberuku

Bow-
Jinouga
Green Bow
Wooden (Starter)
R.Ludroth

HH-
Aoshira
White Shell
Jinouga
Qurupeco
Rathian

Famitsu Weapons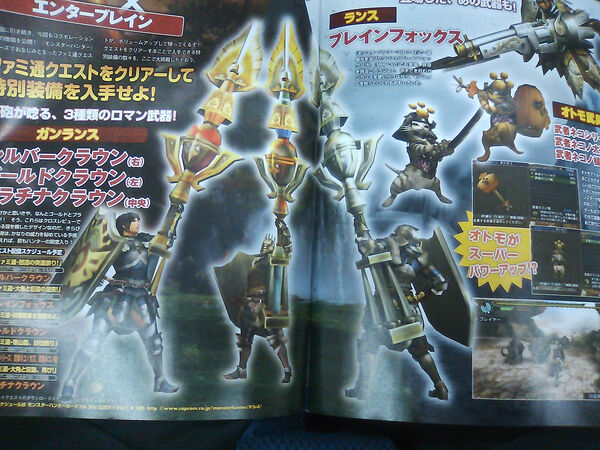 Refer to the Nov 17th Famitsu, Few GL will be in MHP3: (Brainfox, Gold Crown, Sliver Crown and Platinum Crown). Beside that, ther is also some Famitsu weapon for felynes.
The dates for the Famitsu Event Quests :
Silver Crown - Dec 3rd
Brainfox - Jan 21st
Gold Crown - Feb 18th
Samurai Cat Gear - April 8th
Platinum Crown - May 6th