Heey guys! Jhen Morhan is in the city! Jhen Morhan + his realy fun. I dont think he stays long..
When you hr 27 you can do normal Jhen Morhan. Just take a wep with dragon elem. Jhen Morhan is weak to dragon elem. You can Put 2holes in his back and his honrs can be broken, and his legs when you enter final station you can run to his legs and hurt him.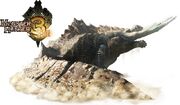 Good luck if you wane ask somthing about a monster ask it!

Ad blocker interference detected!
Wikia is a free-to-use site that makes money from advertising. We have a modified experience for viewers using ad blockers

Wikia is not accessible if you've made further modifications. Remove the custom ad blocker rule(s) and the page will load as expected.