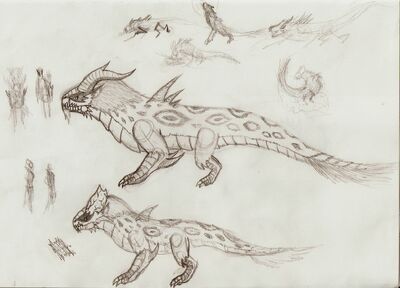 During my art class lately I've been drawing monsters and I really wanted to make a fanged wyvern out of Teo and Luna. Why? I don't know it's just when I fought teo and luna they didn't really use their wings at all and I thought they would look cooler, or should I say hotter,(bad pun) as a fanged wyvern so I did a few doodles and thought that I should post this here to see what you all thought hope you like them.
Ad blocker interference detected!
Wikia is a free-to-use site that makes money from advertising. We have a modified experience for viewers using ad blockers

Wikia is not accessible if you've made further modifications. Remove the custom ad blocker rule(s) and the page will load as expected.