300px|leftCapcom now releases they newest game of the most famous video game series in Japan for 3ds: Monster Hunter Tri G.
Is "almost" the same version for the game on the WII but (this may not be new to you) there are some new quests and some other new aplicatios to this system AND new especies of monster such as the Bracchidios and other subspecies of older monsters as well. Also, the use of the touch screen (the trademark of the portable) is confimed by capcom. Another new app is that (this is some type of "secret info" of the Famitsu Magazine) the producer of MH Ryoto Tsujimoto, says on a interview that the Expansion slide pad on the portable will be his "secret weapon" to replicate the experience of the Monster Hunter Tri on the 3ds.
Poll:So, do you think this game will be released on the ocident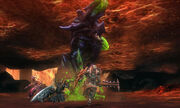 Ad blocker interference detected!
Wikia is a free-to-use site that makes money from advertising. We have a modified experience for viewers using ad blockers

Wikia is not accessible if you've made further modifications. Remove the custom ad blocker rule(s) and the page will load as expected.