The purpose of this blog is to collect information about the changes made to Hardcore Monsters in MHFO. For those who don't know, Hardcore (or HC) monsters are just the same critters with an improved moveset and minor aesthetical differences. Traps only affect them for one or two seconds max, which makes them harder to capture, but status effects have the same duration as in normal species. They are thus far exclusive to Frontier .
I will try to cover the new moves and behavior of HC monsters. However, as I don't own Frontier, most of the info will come straight from videos (AzureStarStone and kumu5568 are the best sources right now). Backup from someone who actually has the game and can battle these guys would be appreciated.
Of course, once it's complete, all the things from this list could be added on their respective articles. I edited Teostra's page, but I don't wanna risk adding false facts. Consider this as a test.
To read, please click the [show] button on the right side of the name. Information is then displayed. Some of the monsters have Images.
Velocidrome
Aesthetical differences: red eyes, hooked beak, different crest.
New attacks:
Its jump has a quake effect.
Spinning bite and tail whip, similar to Great Jaggi.
Jumping zig-zagging side body tackle attack.
Has a rage mode in which it drools.
Yian Kut-Ku
Aesthetical differences: Evil yellow eyes.
New attacks:
All of its fireballs make flame pillars erupt from the ground in a straight line when they fall. The fireball-spewing motion is also slightly different, and the ball itself is bigger. This applies to all its fire attacks (normal spit, flying backwards spit and quadruple spit). Probably to its chicken run too (to be confirmed).
Low-altitude aerial charge.
Flies backwards while spewing a fireball, much like Rathalos.
Runs wildly in circles. taking small stones from the ground with its beak and throwing them to the sky. They cause slight damage.
Always chains its peck attack (without jumping first) with a single tail swipe.
It causes High Wind Pressure.
Yian Garuga
Aesthetical differences: yellow eyes (one of them is lacking), large scar across the beak, longer spikes in the back.
New attacks:
Its backflip releases a huge poison cloud that moves forwards.
Turns towards the hunter, raises its head and spits a huge exploding fireball to the ground. Repeats two more times. Last fireball lands a little further.
Runs towards the hunter and tries to trample him/her while roaring (taunts first).
Advances towards the hunter while launching wild uppercuts with its beak, similar to Deviljho's chomps. Getting hit by the tail results in poisoning.
Gets to the air while releasing a huge, deafening soundwave and spits two exploding fireballs to the ground while hovering.
Can aim its fireballs better, triple fireballs have longer range.
Gypceros
Aesthetical differences: Blue eyes, the borders of its mouth are purple.
New attacks:
Quickly swings its tail 180º and then flails it repeatedly, repeatedly hitting the hunter. Uses to slowly walk forwards for a few seconds after performing this move.
All its poison spit attacks are stronger and leave a cloud of poison on the ground where they hit. Applies to its triple spit, chicken run (which it realizes a lot more often), flying backwards throw and rain of poison.
Spits three consecutive poison balls: the first one to the front, the second one a little to the left and the third one a little to the right. Each ball reaches further than the previous one.
Flies backwards while spewing a poison ball, much like Rathalos.
Spews 4 venomous balls to the air which fall around him, leaving poison clouds.
Can perform its flash move after two clicks of its crest instead of three. The dizzy status it causes lasts a lot longer than usual.
Feigns it's paralyzed and then performs its new tail attack when the hunters get too close. Recognizable because the typical paralysis yellow lightning doesn't cover its body.
Pretends to be asleep and suddenly performs its flash move, then uses its new tail attack.
It causes High Wind Pressure.
Hypnocatrice
Aesthetical differences: Evil yellow eyes.
New attacks:
Jumps towards the hunter and attacks with its claws three times, then it rushes forwards covering a short distance.
Spews a cloud of sleep gas which moves forwards and actually causes damage besides inflicting sleep.
Spits a lot of sleep gas balls to the air which fall around it.
Scratches the ground with its claw three times and then runs wildly in circles while spitting sleep gas balls to left and right.
Low-altitude aerial charge.
Jumps in all directions like it's dancing (deals heavy damage).
Dragon wind pressure.
Azure Rathalos
Aesthetical differences: The color of the eyes (I think)
New attacks:
Rapid-fire fireballs, spews a lot of them while slowly turning.
A fireball which creates small explosions around its path.
Low-altitude aerial charge.
Flying: faster poison claw attack.
Flying:spews fireballs directly downwards which violently explode upon impact and cause a sort of mini-explosions around them.
Ultra grade earplugs required to block its roar, paralyzes for longer.
Dragon wind pressure.
Pink Rathian
Aesthetical differences: Blue eyes (confirm please)
New attacks:
Dragon wind pressure.
Ultra grade roar.
Her recovery time after shooting fireballs is much shorter.
Can make a sonic explosion with her wings when flying back, and chain this move with charges and fireballs.
Raises her head while trembling and spits a huge fireball that explodes in an enormous ball of flames with lesser explosions all around it.
A triple Blos-like tail sweep behind her. Causes Poison.
She can toss three rocks in different directions with her backflip.
Espinas
Aesthetical differences: Purplish-orange tinge on parts of his body, most noticable at the base of the horn; blue eyes.
New attacks:
Advancing hipcheck of doom.
Combo attack: two advancing swipes with its wings followed by one side tackle and finsihing with a poisonous fireball to the ground.
Second combo attack: two bites and a slide forwards while turning back, repeat one more time, finishes with a Blos-style tail whip.
Spits 5 consecutive fireballs while rearing its head. When shooting the last one it might fly backwards.
Creates dragon wind pressure around him and charges three consecutive times.
Scratches the ground with its claw and charges forwards. When he stops he skids, sweeping its tail 180 degrees and damaging close hunters. Can be told apart from other charges because it's a little slower and creates a huge cloud of dust as it runs. Usually shakes his body after performing this attack in the same way Gravios does, dealing some damage.
One-hit rage.
Orange Espinas
Aesthetical differences: Some of his spikes are a bit shinier, glows greenish when in rage.
New attacks:
Triple fireball, like Rathian.
Advancing hipcheck of doom.
Rain of poison fireballs that fall at random and can OHKO. Where they will land is signaled by a glowing spot. Stops to catch its breath before performing this attack and causes Dragon Wind around him when doing it.
Khezu
Aesthetical differences: Longer tail.
New attacks:
Electrified jumping tackle when not enraged.
Multiple electro-spit. He gets briefly electrified while doing this, when he finishes the attack too.
Chains his tailwhip with a tumble-forwards charge.
Double electric field: the first is like the normal one and when he finishes and starts getting up he does a second, briefer, larger one.
Hovers, moves in a semicircular fashion in the air and spits a single thunderball while landing and getting electrified.
A new roar using the same animation as in Freedom which has shorter range but paralyzes for longer.
Monoblos
Aesthetical changes: green eyes.
New attacks:
Slams the ground with its chest, causing quake, and launches an advancing uppercut with its horn.
A tail swipe in which Blos slides towards the hunter.
Slides on the ground towards the hunter three consecutive times, then roars.
Digs a lot faster.
Causes Dragon Wind Pressure.
Diablos
Aesthetical changes: Can't tell at the moment, screenshots would be appreciated. Maybe its horns are longer? More spikes.
New attacks:
Can chain its charge with a tail sweep + double tail whip, a hipcheck or a quick bite forwards (the latter is just like in MH1). Deals heavy damage.
Digs a lot faster.
When he digs underground bouncing boulders come out as he moves beneath the sand. These rocks break into three pieces as they hit the ground.
Basarios
Aesthetical differences: Blue eyes, there's a branch protuding from its back.
New attacks:
A fireball that causes a huge explosion when it hits the ground. The animation for the attack is also slightly different.
Rolls on the ground, releasing poison clouds.
Aerial jet charge.
Triple sweeping heat beam: the first two from left to right and the third one from right to left. The last one is bigger and more powerful. Releases a poison cloud when finished.
Digs underground, resurfaces near the hunter and spits an exploding fireball.
Tigrex
Aesthetical differences: One eye scarred, his horns are bigger.
New attacks:
Enters Rage Mode even if just flashed.
Huge range exploding roar.
A roar with its head lowered which causes sonic explosions around him, with a longer reach than the afore mentioned roar.
Double 360 spin.
Akantor-style tail swipe.
Backs up and launches a triple forward bite.
A new attack in which he launches a bite forwards and then jumps wildly all over the place two times, dealing heavy damage.
Dyuragaua
Aesthetical differences: horns are longer and bent upwards, its inner claw in each paw is longer than the rest, surrounded by an aura when in rage.
New attacks:
Double claw swipe.
Emits a shockwave of ice when it roars.
In rage mode it can launch two consecutive sets of two ice tornados each.
A spinning strike with its claws which send 4 ice twisters circling the area.
Triple ice blast when in rage (jumps back three times before it).
Double tail whip which emits blue sleep gas.
Pariapuria
Aesthetical differences: The horns seem to be longer.
New attacks:
Draws the hunters closer with a vacuum breath, preventing them from moving, and then spits a ball of vomit (inflicts the Soiled status effect).
Huge water jet from its mouth.
Takes a lot of small gizzards into its mouth and spits them forwards, covering a big radius. Dizzies.
Quick lunge forwards. Tends to chain three of these together.
A quick side-jump which deals damage.
Plesioth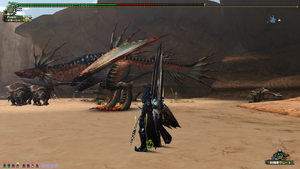 Aesthetical differences: Bigger fins, additional fins at the bottom of tail and back of legs, more muscular legs and differently colored webbing on the wings.
New attacks:
Sweeping water jet.
A sudden burst of sleeping fluid from its body.
Homing chicken run.
Jumps backwards before performing its sliding attack.
Jumps up and down, damaging the hunters close to its feet.
Stands still, looks around and then jumps towards the hunter to perform its sliding attack. Can change direction mid-jump.
Don't know about how it attacks when it's in the water.
Lavasioth
Aesthetical changes: Glowing eyes?
New attacks:
Spits multiple rocks three consecutive times, like Rathian.
Its splash attack when it's in the lava now launches two series of rocks.
When he gets into the lava, magma rocks come out in all directions and explode in burning fragments.
Jumps up and down like an enraged Kut-Ku, damaging hunters below it.
Stands up and spits four magma rocks: the first two have long reach, while the two later ones are tossed to the air and fall near to him. They all scatter in smaller rocks that also deal damage.
Jumps really high in the air and slams down with such force he gets into the ground, scattering magma rocks about, then burrows towards a hunter leaving a trail of flames whenever he passes and pops out again scattering more rocks. Then falls and slides forwards.
Congalala
Aesthetical changes: Probably the eyes, its hair spike is more "spiky".
New attacks:
Farts are bigger in general.
Super bouncing farts (bounces forwards and backwards while farting huge clouds, three times)
Flails around wildly in the ground after falling after its combo attack, then farts when it gets up (when in rage).
Homing charge.
Stands up and throws four dung with its claws and tail.
Double claw strike.
Lays himself in the ground, then flails its arms wildly while rotating 360º.
Can do breath attacks without having eaten anything. They also have a longer range.
Triple dung throw.
Farts continuously when in a pitfall trap.
Rajang
Aesthetical changes: blue eyes, permanent golden hair as in rage mode . When entering rage it gets surrounded by a golden aura and the hair gets even more pointy.
New attacks:
Faces the hunter directly when jumping sidewards instead of having to turn.
Punch combo, back kick, punch combo again combination. Can readjust direction after backhopping and the second set of punches homes in.
Jumps back a long distance then rushes forwards with a long-range hugging attack.
Jumps high in the air and slams down with such force that shatters the ground beneath. Causes a large area quake effect.
Area-of-effect aerial thunderball.
Curls itself into a ball and propels forwards a long distance, bouncing in the ground once and then landing. In rage mode, the landing shatters the ground in four directions and causes quake. Similar to Unite's Rajang new attack, but lower and faster.
Ultra-mega-kamehameha which causes a huge ball of lightning in Rajang's mouth as it's being fired (rage only).
In rage mode some of its attacks (such as its spinning punch, its flurry of punches or its back kick) are reinforced by electric explosions which extend their range.
TRUE HARDCORE:
Its normal state is the same as pseudo-HC Rajangs rage mode.
New rage mode in which its body is enveloped in red lightning.
Spirit bomb attack: raises in its hindlegs, charges a huge ball of lightning above itself and the launches it very slowly towards the ground. When it impacts, the ball makes an enormous explosion.
Daimyo Hermitaur
Aesthetical differences: More reddish claws.
New attacks:
Shields itself with its claws and counters with a quick swipe.
Homing jump.
Advances forwards in zig-zag while swiping its claws repeteadly, 4 times.
Shields itself completely and suddenly jumps in the air towards a hunter.
Covers its face with its claws, walks forwards and swipes twice with its claws when near a hunter.
Walks backwards while shielded with its claws and then swipes twice when near a hunter.
Backwards charge (different from Unite, it only sort of walks backwards like when it first spots you and deals some damage if it hits).
Digs underground, burrows towards a hunter leaving a trail of dust behind and ejects from the ground ramming him/her with its horn. When it stops, swings its claws to the sides two times.
Longer waterblast, aimed a bit lower.
Charged claw swipe.
Shogun Ceanataur
Aesthetical differences: Red teeth, white antennae, purple edge of the claws, bigger claws, bigger spikes in the back.
New attacks:
Zig-zagging quadruple claw swipe.
Double claw swipe.
Walks towards the hunter while stabbing the ground with its claws, one at a time, causing tremors; and launches a hugging attack when near its target.
Stabs the ground with its claws repeteadly, progressively faster, causing quake effects, and finishes with a huge shockwave around itself that deals damage.
Spits a long range pison jet from its mouth that sweeps multiple times, and then its Gravios skull finishes by belching a poison cloud.
Jumps high in the air and tries to land on the hunter. Causes a wide area quake effect when it hits the ground.
Pops out from the ground three times in the same spot instead of just two.
Digs towards the hunter in a similar style to that of Diablos, leaving a trail of dust, and then suddenly jumps from the ground, causing a tremor when landing.
Causes a quake effect when it falls as it detaches itself from the ceiling.
Shoots a water jet directly at the hunter as it passes under it (when in the ceiling). The beam can sweep several times and is very fast.
Kirin
Aesthetical changes: Blue eyes, some patches of fur are brighter than others, surrounded by an electric aura. The electricity which composes this aura eventually turns blue and bigger. In rage mode it turns red.
New attacks:
Back kicks.
Charge is slightly different and faster.
Chains a horn-thrust with an upwards stab.
Huge zig-zagging lightning rain in front of him.
Does a frontflip, landing with its horn, that makes a huge lightning strike fall on the hunters (preceded by a little lightspot in the ground). The number of strikes increases when the electric halo changes colour, making it two series of multiple thunderstrikes.
Slowly walks forwards for about ten seconds while making lightning strikes fall all around it in a large area.
Makes a light appear on the ground some meters before him, then rushes forwards at light-speed leaving a trail of electricity behind. In rage mode it may repeat it up to three times in different directions.
When surrounded by blue lightning it leaves a spot of electricity everywhere it steps (I don't know if this actually does something).
In rage mode (red) it can do a high jump and spawn in other part of the area. It also does the high jump to change zones while not enraged.
Kushala Daora
Aesthetical changes: golden eyes, longer horns.
New attacks:
Its claw strikes send little tornadoes that don't do anything at first, but explode into bigger gusts of wind after a couple of seconds.
Ice breath even if not in the Snowy Mountains, also the stream of cold air is bigger. Doesn't seem to cause Snowman status effect.
Flies high in the air and spits huge wind blasts towards the ground in a circle pattern.
Rushes through the air in a straight line enveloped by a gust of cold wind, leaving a trail of ice as it passes by, and then it turns and lands.
Jumps in a straight line, turns towards the hunter and spits an enormous blast of wind.
When it roars its wind barrier gets stronger and patches of ice appear all over the ground. The wind aura causes damage and flings the hunter in the air, besides giving him/her a "Cold" effect.
Jump attack similar to Teostra's.
Flaps its wings like Teo/Luna, making harmless twisters appear where the hunters are, and then it roars (not deafening) turning them into huge tornadoes.
Quick, consecutive aerial bashes that cause a sonic explosion.
The wind blasts it spits are huge.
Chameleos
Aesthetical changes: crooked horn, eyes turn red when the horn is broken, longer spikes in the neck.
New attacks:
The wind it makes deals damage now.
It makes wind when turning and can turn directly to the hunter in one go.
Chains its claw strike with a single tail slam (which causes wind).
Chains a single tongue-launching with a double tongue sweep.
Drools, launches a quadruple tongue-swing with a longer but narrower range and then it flies up leaving a cloud of poison under him. If the hunter gets hit by the tongue it will fly up to the poison cloud and take damage from it too.
Ultra-spray of fatigue gas.
180º spinning attack with the tail.
Jumps up and falls on the hunter doing a body slam. Homing. Causes quake.
Lowers its head, releases a ring of green acid clouds around it and then it flies up falling on the hunter with a body slam which causes quake. Follows with a quick tongue launching.
When enraged, little acid bubbles appear at random on the ground and pop releasing green gas. They cause a bit of damage.
Teostra
Aesthetical changes: evil face of doom.
New attacks:
Even longer flamethrower.
Its claw attacks cause explosions.
Its jump attacks cause explosions.
Tail whip causes explosions too.
A short rushing claw attack.
Can disperse fire dragon powder in the form of red clouds that take random parts of the area and then make them ignite whenever he wants. Roars after making the powder explode.
Can also make random explosions around him with just gnashing its teeth, then roars.
Random achrobatic jump attack that causes explosions whenever he lands.
A fire tornado surrounds him whenever he roars to reactivate the fiery halo.
Enters flight mode much more often. Can breathe long-range fire while flying and perform tail attacks that make explosions when they hit the ground.
Corrections would be appreciated.
There are more to come.
Ad blocker interference detected!
Wikia is a free-to-use site that makes money from advertising. We have a modified experience for viewers using ad blockers

Wikia is not accessible if you've made further modifications. Remove the custom ad blocker rule(s) and the page will load as expected.