Comments

220
Monster Hunter Frontier Season Forward 2 and 2011 Anniversary

Please read Frontier: Frequently Asked Questions first before asking anything about the release of Monster Hunter Frontier.

Should we change the titles to decimals? Like .1, .2? I don't know...
Anyways, new preview site is up. This only shows though the new monster, and that basic rasta guy pointing...
Trailer
Forward .2
Preview Site: http://www.mh-frontier.jp/preview/forward2/index.html
A flying wyvern-like creature is available to hunters as their comrades, helping the players attack monsters. They appear to be highly customizable.
New Monsters
Gogomoa is a new monster introduced to Forward .2. The monster shoots web from its wrists and it carries its young.
This monster was slowly revealed as players post screenshots in http://mhf.pitcom.jp/ .
Confirmed HC versions of: Bulldrome, Black Diablos, Blue Yian Kut-Ku, Doragyurosu and Gravios.
HC Doragyurosu

HC Black Diablos

HC Blue Yian Kut-Ku

HC Bulldrome

HC Gravios
Darkstalkers x MHF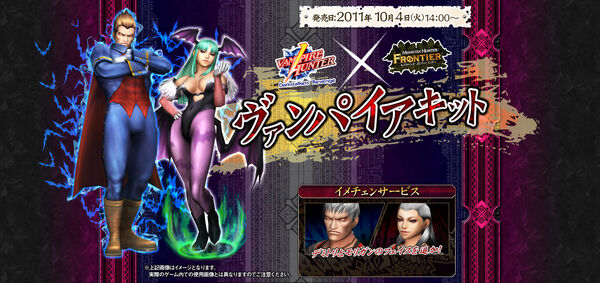 Monster Hunter Frontier also gets Darkstalkers-related Equipment as premium kits. This includes an Armor set for males fashioned after Demitri Maximoff. For females, they are fashioned after Morrigan Aensland. There is also a Great Sword fashioned from Donovan Baine's Sword, and a Dual Sword fashioned to Hsien-Ko's claws.
More Info:
4th Anniversary
Preview Site: http://www.mh-frontier.jp/preview/anv2011_f1/index04.html
7: White Espinas Figure
http://www.mh-frontier.jp/preview/anv2011_f1/campaign/index07.html

Comments, suggestions, and content can be posted below!
Credits: