Originally from Siliconera at: http://www.siliconera.com/2013/10/15/monster-hunter-4-big-getting-another-limited-edition-3ds/
Not to be confused with the Monster Hunter 4 3DS XL, Capcom will also release
a baby blue Monster Hunter 4 3DS.

The Monster Hunter 4 Hunter Pack includes the limited edition handheld,
a 4GB SDHC card, and a downloadable version of Monster Hunter 4 for
19,800 yen ($200). The bundle will be available in Japan on November 7.

Monster Hunter 4 broke through Capcom's expectations and moved over
three million copies. I wonder how much these hardware bundles
contributed to Monster Hunter 4′s sales.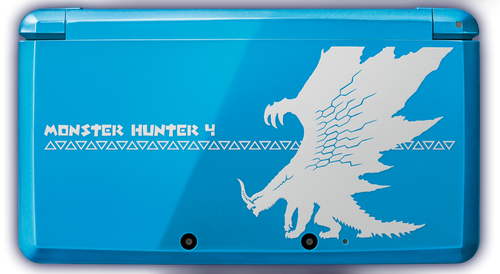 What do you guys think? Comment below. :)
External Links
Ad blocker interference detected!
Wikia is a free-to-use site that makes money from advertising. We have a modified experience for viewers using ad blockers

Wikia is not accessible if you've made further modifications. Remove the custom ad blocker rule(s) and the page will load as expected.