Finally, a Monster Hunter game comes to the PS3!
However, before you all get really excited, it is just a port of Monster Hunter Portable 3rd. Having said that, it'll be in HD/3D, you can port your save data over... and presumably it means that the G version will turn up on the PS3 too.
Of course, there's no word on localisation yet... but it's a possibility, right?

Frequently asked Questions

Source(s):
- http://www.4gamer.net/games/133/G013335/20110522002/
- http://www.famitsu.com/news/201105/22043984.html
- http://www.gamefaqs.com/boards/991479-monster-hunter-portable-3rd/59200362
- http://forums.minegarde.com/topic/3455-mhp3rd-on-the-ps3/

UPDATE: According to Kotaku, any PS3 port games will NOT feature Trophy support. Make of that what you will.
- http://uk.kotaku.com/5804892/you-wont-win-any-trophies-with-psp-remaster-games
UPDATE 2: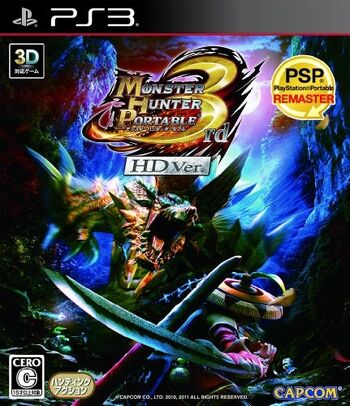 Quite nice box art.
Ad blocker interference detected!
Wikia is a free-to-use site that makes money from advertising. We have a modified experience for viewers using ad blockers

Wikia is not accessible if you've made further modifications. Remove the custom ad blocker rule(s) and the page will load as expected.