Ad blocker interference detected!
Wikia is a free-to-use site that makes money from advertising. We have a modified experience for viewers using ad blockers

Wikia is not accessible if you've made further modifications. Remove the custom ad blocker rule(s) and the page will load as expected.
Hello, and welcome to Monster Appreciation Week: Stygian Zinogre!
Zinogre is awesome, and Stygian Zinogre is... also awesome? As a Subspecies? Wow!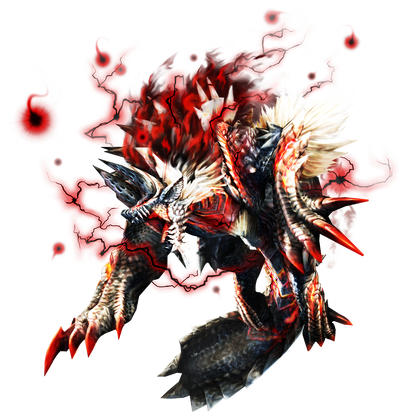 In-Game Description
Monster Hunter 3 Ultimate

A subspecies of Zinogre with a jet-black body. It gathers bugs that eat Dragonfell Berries and uses their Dragon Element energy to dramatically boost its power. Perhaps this is why it can survive in extreme heat or frigid cold.
MH3U Weapons
Great Sword
Weapon Tree

Brimstren Drakepride
Stygian Acedia
Long Sword
Weapon Tree

Oppressor's Law (normal Zinogre LS)
Stygian Gula
Sword and Shield
Weapon Tree

Brimstren Drakescale
Stygian Luxuria
Dual Swords
Weapon Tree

Brimstren Drakeclaws
Stygian Superbia
Hammer
Weapon Tree

Brimstren Drakemaw
Stygian Industria
Hunting Horn
Weapon Tree

Brimstren Drakesong
Stygian Tristitia
Lance
Weapon Tree

Brimstren Draketail
Stygian Ira
Gunlance
Weapon Tree

Brimstren Drakeblood
Stygian Avaritia
Light Bowgun
Weapon Tree

Stygian Invidia
Heavy Bowgun
Weapon Tree

Stygian Temperantia
Bow
Weapon Tree

Brimstren Drakesight
Stygian Patientia
MH3U Armor Skills
Zinogre Z

Blade Master
[1]
[2]
[3]
[4]
[5]
Total
Skill Active
Gunner
[6]
[7]
[8]
[9]
[10]
Total
Skill Active
Fast Charge
2
3
1
3
1
10
Focus
Evasion
2
2
1
3
2
10
Evasion +1
Evasion
2
1
1
3
3
10
Evasion +1
Dragon Atk
1
2
2
2
3
10
Dragon ATK +1
Dragon Atk
1
2
2
3
2
10
Dragon ATK +1
Loading
2
3
1
3
1
10
Load Up
Rec Level
-2
-2
-2
-2
-2
-10
Recovery Down
Rec Level
-2
-1
-2
-2
-3
-10
Recovery Down
Unscathed
1
1
3
2
3
10
Peak Performance
Unscathed
1
1
3
3
2
10
Peak Performance
Videos
Video

21:39

Monster Hunter 3 (Tri) G - Stygian Zinogre

Title
Monster Hunter 3 (Tri) G - Stygian Zinogre
by GSD993