Comments

37
Monster Appreciation Week: Sand Barioth
Hello, and welcome to Monster Appreciation Week: Sand Barioth!
Desert-dwelling Subspecies of Barioth, Sand Barioth is a monster to be feared. It can conjure tornadoes!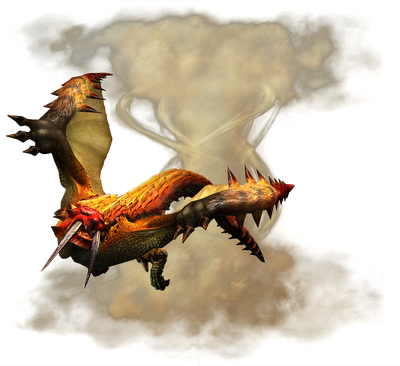 In-Game Description
Monster Hunter 3 Ultimate

A Barioth subspecies that resides in the Sandy Plains. Their breath is strong enough to generate tornadoes, which they then use to travel at high speeds. Their yellow carapaces are tinted red, and their fangs shine deep blue when polished.
MH3U Weapons
Greatsword
| | |
| --- | --- |
| | Weapon Tree |
Dual Swords
| | |
| --- | --- |
| | Weapon Tree |
Lance
Weapon Tree

Tusk Lance
Tusk Lance+
Sabertooth
Shiera Stolrata
Shiera Vitalica
Switch Axe


Weapon Tree

Azurite Slash Axe
Gale Azurite
Giga Gale Azurite
Bow
Weapon Tree

Lithe Saberbow
Fallenfriede
Rafalga Sandraider
Videos
Video

18:03

Monster Hunter 3 Ultimate - Sand Barioth

Title
Monster Hunter 3 Ultimate: Sand Barioth
by DigdugDak908