Ad blocker interference detected!
Wikia is a free-to-use site that makes money from advertising. We have a modified experience for viewers using ad blockers

Wikia is not accessible if you've made further modifications. Remove the custom ad blocker rule(s) and the page will load as expected.
Hello, and welcome to Monster Appreciation Week: Brachydios!
I know. Finally. It everyone's favourite exploding theropod!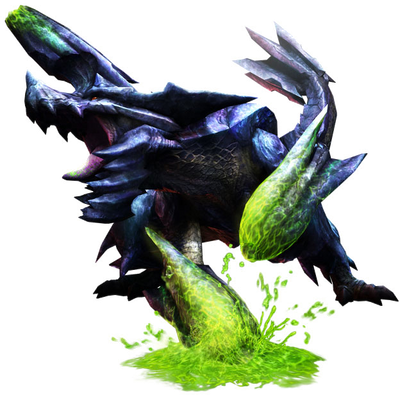 In-Game Description
Monster Hunter 3 Ultimate

Brute wyverns coated with an explosive green substance. The material is thought to be a unique myxomycete--or slime mold--that is primed to explode by the Brachydios's own saliva. Note that these crafty creatures can also deliver powerful foreleg strikes.

This Article lists all the Brachydios Weapons and Armors that can be obtained in every game.
MH3U Weapons
Great Sword
English


Dios Blade
Dios Blade+
Demolition Sword
Myxo Demolisher
Long Sword
English


Dios Katana
Dios Katana+
Demolition Katana
Pyro Demolisher
Sword and Shield
English


Dios Edge
Dios Edge+
Demolition Cutter
Struxion Demolisher
Dual Sword
English


Dios Slicers
Dios Slicers+
Demolition Blades
Spectral Demolisher
Hammer
English

Dios Tailhammer
Dios Tailhammer+
Demolition Hammer
Novagio Demolisher
Hunting Horn
English


Dios Bell
Dios Bell+
Demolition Chime
Timbral Demolisher
Lance
English


Dios Stinger
Dios Stinger+
Demolition Lance
Albrach Demolisher
Gunlance
English


Dios Gunlance
Dios Gunlance+
Demolition Gunlance
Zvolta Demolisher
Switch Axe
English


Dios Axe
Dios Axe+
Demolition Axe
Brisant Demolisher
Light Bowgun
English


(?)
(?)
Heavy Bowgun
English


Dios Cannon
Dios Cannon+
Demolition Cannon
Haize Demolisher
Bow
English


Dios Flier
Dios Flier+
Demolition Bow
Warflare Demolisher
Gallery
Official Videos
Video

00:34

Monster Hunter 3 (Tri) G - Explosive Temper (Brachydios intro)

Title
MH3G: Brachydios Introduction
by GSD993
Video

02:04

Monster Hunter 3 Ultimate - Brachydios Gameplay (Wii U)

Title
MH3U: Brachydios Gameplay
by CapcomUnityVideos