Hello, and welcome to Monster Appreciation Week: Black Diablos!
Oh, this ol' girl's been around for years, so she deserves some kind of celebration.
In-Game Description
Monster Hunter 3 Ultimate

These black-shelled Diablos are treated as a subspecies, but are actually just normal female Diablos in heat. The color change is a warning to other creatures, as they tend to become extremely aggressive during mating season.
MH3U Weapons
Great Sword
| | |
| --- | --- |
| | Weapon Tree |

Lance
Weapon Tree

Black Tempest
Black Tempest+
Rising Tempest
Switch Axe


Weapon Tree

Axe of Thanatos
Axe of Demons
Axe of Hades
Video

08:05

WiiU MH3GHD MH3U - Gameplay 24 - G Rank Black Diablos 黒角竜 (HD)

Title
MH3U HD - G Rank Black Diablos (Group)
by Sendoh Terry
And of course, you can always hunt the original Diablos species as well!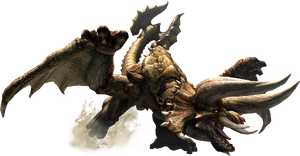 Ad blocker interference detected!
Wikia is a free-to-use site that makes money from advertising. We have a modified experience for viewers using ad blockers

Wikia is not accessible if you've made further modifications. Remove the custom ad blocker rule(s) and the page will load as expected.