Comments

47
Monster Appreciation Day: Silver Rathalos and Gold Rathian
Welcome to Monster Appreciation Day: Silver Rathalos and Gold Rathian!


Yeah, two this week - hope it makes up for them only being Subspecies. Anyway, as always, use this blog to discuss and share your stories, either from today's endeavours or a previous hunt!


No Gold Rathian render, but at least the art's pretty nice.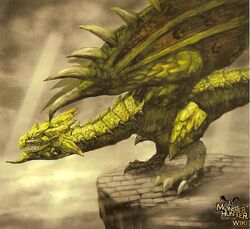 MHF2 and MHFU Weapons
| | |
| --- | --- |
| | Great Sword |

| | |
| --- | --- |
| | Sword & Shield |

| | |
| --- | --- |
| | Hammer |

| | |
| --- | --- |
| | Light Bowgun |

| | |
| --- | --- |
| | Dual Swords |

| | |
| --- | --- |
| | Alternative Sword & Shield |

| | |
| --- | --- |
| | Hunting Horn |
MHFU Armor Skills - Golden Moon Series
Blademaster


Gunner


Blademaster (Z)


Gunner (Z)


Luck Booster
Tranquilizing Whiz
Spectre's Whim

Luck Booster
Tranquilizing Whiz
Spectre's Whim
MHP3rd Weapons
Gunlance
Japanese

クイーンバースト
煌銃槍イシュタル

Translation

Queen's Burst
Shining Ishtar

Hunting Horn
Japanese

ゴルトリコーダー

Translation

Gold Recorder
| | |
| --- | --- |
| | Longsword |

| | |
| --- | --- |
| | Gunlance |

| | |
| --- | --- |
| | Light Bowgun |
MHFU Armor Skills - Silver Sol Series
Blademaster

Gunner


Blademaster (Z)


Gunner (Z)


Attack Up (Small)
PierceS/PierceBow Up

Attack Up (Medium)
ESP
Defense -20

Attack Up (Medium)
PierceS/PierceBow Up
Defense -20