Hi guys. Blimey, it's been a long time since I've done one of these.

Apologies for the delay; with MH3U out in a few days, I thought it might be best to wait for actual release... but in the end, I decided against that.

So, without further ado... say hello to Arzuros!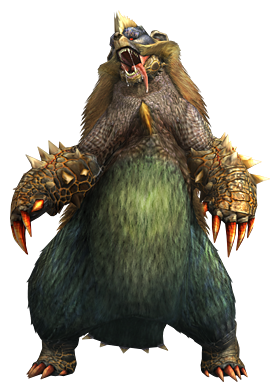 In-Game Description
Monster Hunter 3 Ultimate

Forest-and mountain-dwelling beasts found in humid regions. Though known more for fishing and standing upright to collect honey, their thick claws and heavy forearm plating allow them to deliver powerful blows to any aggressor.
This Article lists all the Arzuros Weapons and Armors that can be obtained in every game.
MHP3rd Weapons
Switch Axe


Japanese

青熊斧
青熊斧改
青熊豪斧【山祭】

Translation

Blue Bear Axe
Blue Bear Axe +
Blue Bear Axe "Mountain Festival"

Hunting Horn
Japanese

ドラグマ【壱式】
ドラグマ【弐式】
ドラグマ【参式】

Translation

Bear Horn I
Bear Horn II
Bear Horn III

Long Sword
Japanese

青熊薙
青熊薙改
青熊長筆【留跳】

Translation

Arzuros Nagi
Arzuros Nagi +
Arzuros Slasher "Recoil"
Gallery
Videos
Video

00:32

Monster Hunter 3 (Tri) G - Honey Hunter (Arzuros intro)

Title
MH3G: Arzuros Introduction Video
Provided by GSD993
As always, share your thoughts, opinions and anecdotes about Arzuros in the comments!
Ad blocker interference detected!
Wikia is a free-to-use site that makes money from advertising. We have a modified experience for viewers using ad blockers

Wikia is not accessible if you've made further modifications. Remove the custom ad blocker rule(s) and the page will load as expected.