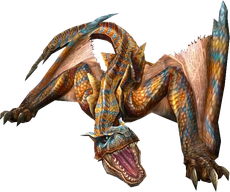 Dear Monster Hunter fans im in a pickle! I need to beat the
"Tigrex!"
I need to know all i can about the Tigrex:
Best Armor
Best Close Range Weapon
Best Long Range Weapon
Weakness and Tricks.
I am trying to get the devil slicer. Meanwhile i have been doing offline quests to earn stuff.
I have almost beat him. But I need more practice and a better weapon.
Thank you for you help!
((KillerIke))
Ad blocker interference detected!
Wikia is a free-to-use site that makes money from advertising. We have a modified experience for viewers using ad blockers

Wikia is not accessible if you've made further modifications. Remove the custom ad blocker rule(s) and the page will load as expected.