Battle of the canines
Just think what would happen if one day a jinouga was prowling around the swamp when a Kamu Orugaron or Nono Orugaron came along.
What do you think would happen, would they befriend each other, fight each other to the death or would they just run away.
What do think?
Add as much detail to their battle as you can.
Jinouga
'
The wolf monster of lighting, a worthy competator in this fight!'
Kamu Orugaron & Nono Orugaron
'Sneaky dangerous monsters that rely on each other to get out of trouble.'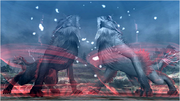 Ad blocker interference detected!
Wikia is a free-to-use site that makes money from advertising. We have a modified experience for viewers using ad blockers

Wikia is not accessible if you've made further modifications. Remove the custom ad blocker rule(s) and the page will load as expected.