As the title sais, this blog will feature randomm pics that don't really fall into the categories of Revamp, Requests etc.
So anyway, hope you like and in an effort to gain more popularity on this wiki, I am open to doing to requests again, just ask and I'll contemplate :).
Militarized innocence
What does that mean? Well that means getting an initially innocent childhood figure (In this case a Pikachu) and giving it a mothaf$%kin' gun!
I don't know why I drew this, as far as I can remember, I was thinking about setting up a Deviantart account, I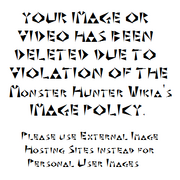 pondered on what what was popular on Deviantart. Pikachu just so happened to have a bit of popularity at the time. So I set about designing a Pikachu that was different from the rest, just to turn a few heads and to get some lols. Anyway an account was never set up and this went into a draw to be forgotten about for 5 months.
Precaution: Just in case there is some extreme crackdown on non-monster hunter related images, (I think I read something about it on the Admin board) I suppose an excuse must be made to ensure that this guy stays on the wiki, even if it has the possibility of being 99.9% absolutely irrelevant to anything monster hunter like: This picture related to Metal Gear Solid, possibly. Metal Gear Solid has made an advertisement deal with Monster Hunter, obviously. So to a degree my Pikachu is relevent to monster hunter, at least from a marketing standpoint.
Hope you like, more will come (Or not, depends on popularity).
---
I CAN'T DOODLE!
I'm absolutley crap at Doodling, I just start to scribble out a pointless thing and then THIS happens! I'm not
even in the Art Competition and I drew a Chibi.
When it comes to Chibi's I seem to specialize in the "Stupid and Proud" section.
But at least its consistent with my Chibi Jaggi :)
Ad blocker interference detected!
Wikia is a free-to-use site that makes money from advertising. We have a modified experience for viewers using ad blockers

Wikia is not accessible if you've made further modifications. Remove the custom ad blocker rule(s) and the page will load as expected.