LOL ITS A MINI COMIC!!!!!
Decided to try things a little differently this time, the moment someone asked thast I do a Chibi Rajang, a whole scene appeared in my head, anyway hope you like, honest opinions only!!!!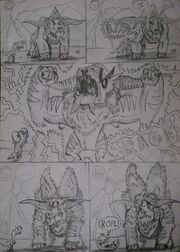 Extra: If you like Chibis be sue to check out my Deviljho Chibi, he is awfully lonely. Plus check out my Gravios and Plesioth revamps, tell me if you have a monster request, whether it be a revamp or something entirely new.
I WILL NOT DO CHIBI REQUESTS, THIS WAS A ONE OFF, I HAVE ALREADY AGREED TO DO EVERY MH3 MONSTER AND I DON'T WISH FOR THE WORKLOAD TO BE INCREASED!
Ad blocker interference detected!
Wikia is a free-to-use site that makes money from advertising. We have a modified experience for viewers using ad blockers

Wikia is not accessible if you've made further modifications. Remove the custom ad blocker rule(s) and the page will load as expected.