I decided I would do better without pens, and for a pic that took 5 minutes, it ain't too shabby, the scribble is a Jaggi that I did facing forwards and it scared me. Hope you like, and please, honest opinions only!!!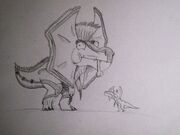 IMPORTANT NOTE!!!!: PLEASE CHECK OUT MY GRAVIOS REVAMP AND CHIBI DEVILJHO, EVERYONE IS FOCUSING ON THE PLESIOTH REVAMP AND THIS CHIBI, MY GRAVIOS AND DEVILJHO ARE DYING OF LONLINESS!!!!
Ad blocker interference detected!
Wikia is a free-to-use site that makes money from advertising. We have a modified experience for viewers using ad blockers

Wikia is not accessible if you've made further modifications. Remove the custom ad blocker rule(s) and the page will load as expected.