Please read Frontier: Frequently Asked Questions first before asking anything about the release of Monster Hunter Frontier.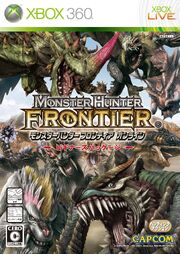 It's real, folks. Capcom producer, Mr. Ono Yoshinori, has announced at a press conference in Tokyo, Japan that Monster Hunter Frontier will be coming to the Xbox 360 on June 24, 2010. Price for the disc set is set at ¥6090.
No word on an American/English release though.
Pictures from Press Conference
Closed Beta
Closed beta to begin May in Japan. There will be a separate server for Xbox 360 players, but Capcom would eventually like to cross them with the existing PC server sometime in the future. This closed beta is said to be testing the major update, "Season 8.5". It is still unclear bout how one will be able to participate in the closed beta.
Open Beta
Although the game is released on June 24, 2010, it's actual online service will not start until July 7. But before that time, buyers will be able to play online for free in an open beta. Character data made during the open beta can be kept and played with even after the open beta is over and the actual payed online service starts.
Pay to Play
Begining this Summer in Japan, Xbox LIVE Gold members will need to buy a "Hunter Live Course" which costs ¥1,400 ($15) for 30 days. Xbox LIVE Silver members buying the Hunter Live Course will automatically be upgraded to Gold membership for the 30 days.
Trailer
Links
Ad blocker interference detected!
Wikia is a free-to-use site that makes money from advertising. We have a modified experience for viewers using ad blockers

Wikia is not accessible if you've made further modifications. Remove the custom ad blocker rule(s) and the page will load as expected.