Hello, and welcome to Monster Appreciation Week!
This week we look at the monster shark of the frozen abyss and frozen land, Zamtrios!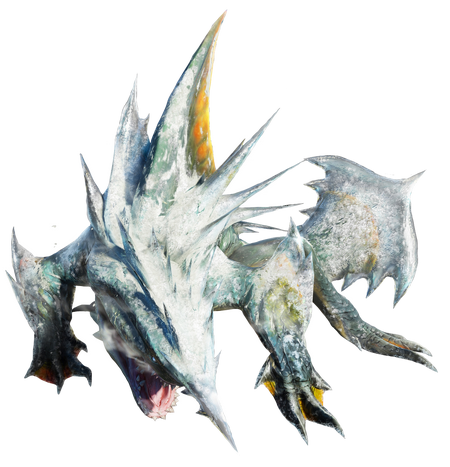 In-Game Description
Monster Hunter 4 Ultimate

Amphibians that strike from frozen waters, using the cold to stun their prey. They secrete a special liquid that both coats their own body with icy armor and freezes any nearby foes. Frogs are their favorite food.




Threat Level (危険度): ★★★★
Monster Hunter 4 Ultimate Equipment
Blademaster


Gunner


Ice Atk +1
Meat Lover
Raise Hunger

Ice Atk +1
Meat Lover
Raise Hunger

Ice Atk +1
Meat Lover
Raise Hunger
Blademaster


Gunner


Meat Lover
Speed Eating +1
Ice Atk +1
Raise Hunger

Meat Lover
Speed Eating +1
Ice Atk +2
Raise Hunger
Interesting Facts About Zamtrios
The Frozen Seaway's BGM is Zamtrios' Theme.
Zamites hatch out of eggs embedded in the ice by their parents. Once they hatch, they are already ravenous predators.
To inflate itself, Zamtrios will rapidly produce a gas inside its body that increases to Zamtrios several times its original mass. This is used as another defense. When in this form for a long time or when enough damage is dealt, it will deflate from pores under it.

Its believed that if they stay inflated for to long, they could end up killing themselves.

Zamtrios have been found to have a taste for Plesioth.
Zamtrios have another layer of skin under their skin once torn off.
Videos
Video

01:16

3DS Monster Hunter 4 Ultimate -Zamtrios Intro-

Title
MH4: Zamtrios Intro
by DrTangerine
Video

18:56

Monster Hunter 4 Nubcakes 14 - Zamtrios English commentary online gameplay

Title
Monster Hunter 4 - Zamtrios HAMMER gameplay
by iCEMANnoob
Video

00:00

モンスターハンター4 ザボアザギル プレイ動画 MH4 Zamtrios Gameplay (Hammer)

Title
Zamtrios Hammer Gameplay
by MHVuze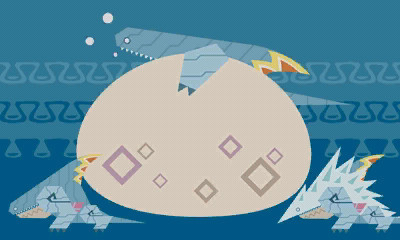 Ad blocker interference detected!
Wikia is a free-to-use site that makes money from advertising. We have a modified experience for viewers using ad blockers

Wikia is not accessible if you've made further modifications. Remove the custom ad blocker rule(s) and the page will load as expected.