Comments

43
Monster Appreciation Week: Red Khezu(4th Gen)
Ad blocker interference detected!
Wikia is a free-to-use site that makes money from advertising. We have a modified experience for viewers using ad blockers

Wikia is not accessible if you've made further modifications. Remove the custom ad blocker rule(s) and the page will load as expected.
Hello, and welcome to Monster Appreciation Week!
This week we look at the regular version of Khezu that is considered a subspecies, Red Khezu!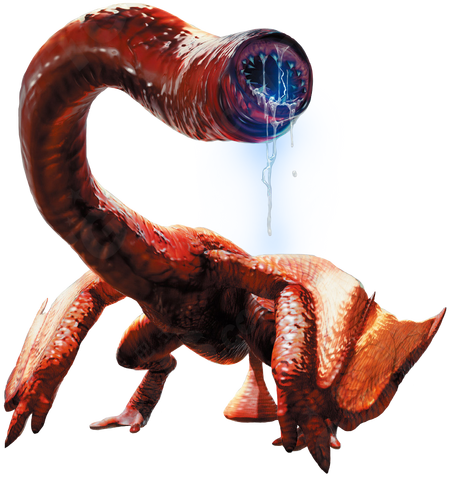 In-Game Description
Monster Hunter 4 Ultimate

A ghastly Khezu variant with a crimson hue and a much more aggressive temperament. Their electrical organs are further developed as well, giving them a wider variety of attacks to disable and ensnare prey.




Threat Level (危険度): ★★★★
Monster Hunter 4 Ultimate Equipment
Blademaster


Gunner


Wide Range +1
Recovery Up
Recovery Spd -1

Rationer
Wide Range +1
Recovery Up
Recovery Spd -1

Wide Range +1
Recovery Up
Recovery Spd -1

Rationer
Wide Range +1
Recovery Up
Recovery Spd -1
Interesting Facts About Red Khezu
Order: Saurischia - Suborder: Wyvern Feet - Infraorder: Strange Wyvern - Superfamily: White Wyvern - Family: Khezu
Khezu is a hermaphrodite and reproduces asexually. They will ambush some type of organism, no matter what species, and inject eggs into the host. The young will feed on the creature alive and hatch out of it when they reach a certain size. They can sometimes be seen living in cracks in caves, ready to suck any prey that passes by.
Interestingly, Khezu Whelps are a delicacy but adult Khezu aren't a delicacy.
Red Khezu is normal while Khezu is a genetic defect.
Its neck can stretch much farther than the normal one and it has a lot more muscle in its body.
Red Khezu can be found living in the same areas as Khezu but they are better adapted for colder environments, unlike Khezu.
Pale Extract is used for many different medicines.
When Khezu die, Thunderbugs will actually feed on its electrical sac.
Red Khezu skin is also soft but is better known for the many colors in its wings.
Some Khezu have been found to have hair on their belly.
Videos
Video

00:22

Proof That The Red Khezu Can Eat In MHFU

Title
MHFU: Red Khezu eating mushrooms?!
by HyperGamer7734
Video

28:12

MH4G - G★1 - リオレイア と フルフル亜種 Rathian & Red Khezu

Title
MH4G - G★1 - リオレイア と フルフル亜種 Rathian & Red Khezu
by kormaruR
Video

12:21

MH4G - G★1 - フルフル亜種 Red Khezu 10 21 2014

Title
MH4G - G★1 - フルフル亜種 Red Khezu 10 21 2014
by kormaruR