Comments

27
Monster Appreciation Week: Pink Rathian(4th Gen)
Ad blocker interference detected!
Wikia is a free-to-use site that makes money from advertising. We have a modified experience for viewers using ad blockers

Wikia is not accessible if you've made further modifications. Remove the custom ad blocker rule(s) and the page will load as expected.
Hello, and welcome to Monster Appreciation Week!
This week we look at the evil cherry blossom with a poisonous tail, Pink Rathian!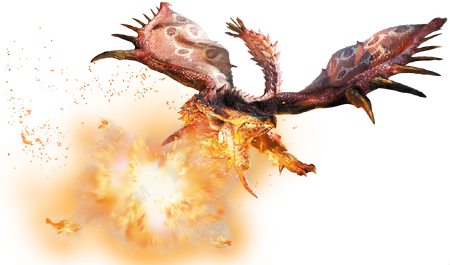 In-Game Description
Monster Hunter 4 Ultimate

A subspecies of Rathian with vibrant pink scales. Pink Rathians wield their toxic tails more skillfully than normal Rathians, and use a wide variety of attacks to weaken their prey before eventually moving in for the kill.




Threat Level (危険度): ★★★★★
Monster Hunter 4 Ultimate Equipment
Blademaster


Gunner


Windproof (Hi)
Fire Atk +1
Adrenaline +1

Windproof (Hi)
Fire Atk +2
Adrenaline +1

Windproof (Hi)
Fire Atk +1
Adrenaline +1

Windproof (Hi)
Fire Atk +2
Adrenaline +1
Interesting Facts About Pink Rathian
Order: Saurischia - Suborder: Wyvern Feet - Infraorder: Armor Shell Wyvern - Superfamily: Flying Wyvern - Family: Rath
The Rathian is the Female Fire Wyvern, Queen of the Land, and occasionally Queen of the Flying Wyverns.
The Rathian is said to usually have the stronger fire power compared to the Rathalos.
Some Rathian that are hunted in Low Rank are actually immature Rathian that novice hunters fight.
They use their spike on their chin to feed their young. Her role is to take care of and protect the young while the Rathalos guards the territory from threats in the sky. Young Raths have somewhat of a developed digestive system and teeth allowing them to eat meat.
Like Rathalos, she is one of the most well-known monsters in the MH World.
Similar to the Rathalos, she will go to all sorts of areas during breeding season to find a mate.

It should also be noted that she lives and thrives in the same areas, Rathalos can usually only be seen like the Volcano.

The legs of the Rathian in Moga and Val Habar are said to be different.
Some Rathian can actually be better flyers than Rathalos but its rare.
Rathian meat and eggs are very profitable items. These items are a good people like to eat.
The Pink Rathian is a genetic mutation of the Rathian.
In some legend, the Pink Rathian was to have kept watch of a young girl, which suggested that they could be quite calm but Pink Rathian are a lot more aggressive than the normal Rathian.

Hunters who have Pink Rathians as pets have found that they are quite calm.

She prefers the same areas as the Azure Rathalos but is able to survive in the same areas as the normal Rathian.
Pink Rathian are a lot more skilled with their tails, agility, and strength. They are even better flyers and one was even said to have attacked a ship.
Videos
Video

28:56

MH4 モンスターハンター4 - 集会所★5 リオレイア亜種 Rathian Subspecies HR4 Urgent

Title
MH4 モンスターハンター4 - 集会所★5 リオレイア亜種 Rathian Subspecies HR4 Urgent
by kormaruR
Video

38:14

MH4G - G★1 - リオレイア亜種2頭 Double Pink Rathian 10 16 2014

Title
MH4G - G★1 - リオレイア亜種2頭 Double Pink Rathian 10 16 2014
by kormaruR