Ad blocker interference detected!
Wikia is a free-to-use site that makes money from advertising. We have a modified experience for viewers using ad blockers

Wikia is not accessible if you've made further modifications. Remove the custom ad blocker rule(s) and the page will load as expected.
Hello, and welcome to Monster Appreciation Week!
This week we look at the crazy Fox Monkey, Kecha Wacha!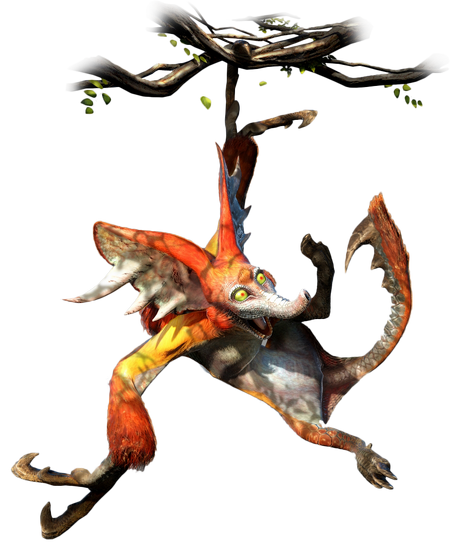 In-Game Description
Monster Hunter 4 Ultimate

Fanged beasts with limbs adapted for swinging through forests and membranes on their forelegs for gliding. When provoked, they shield their faces with giant ears, blocking out any loud noises or bright light.




Threat Level (危険度): ★★★
Monster Hunter 4 Ultimate Equipment
Blademaster


Gunner


Water Atk +1
Spirit's Whim

Water Atk +1
Constitution +1
Spirit's Whim
Bad Luck

Water Atk +1
Spirit's Whim

Water Atk +1
Constitution +1
Spirit's Whim
Interesting Facts About Kecha Wacha
The Ancestral Steppe BGM is Kecha Wacha's Theme.
A Kecha Wacha's ears are used to intimidate, listen, protect themselves from roars, and to block powerful flashes.
Kecha Wacha are curious in nature but will occasionally attack travelers in their territory.
Some are known to live in abandon Nersyclla nest in both the Sunken Hollow and Primal Forest.
Kecha Wacha use the mucus from their nose to construct nest for themselves.
Videos
Video

00:49

Kogath - Monster Hunter 4 - Kechawacha Intro

Title
Kogath - Monster Hunter 4 - Kecha Wacha Intro
Provided by Kogath
Video

09:24

Monster Hunter 4 Nubcakes 04 - Kechawacha English commentary online gameplay

Title
Monster Hunter 4 - Kecha Wacha HAMMER gameplay
by iCEMANnoob