Hello, and welcome to Monster Appreciation Week!
This week we look at the leader of the paralyzing raptors from the 1st Generation, Gendrome!
In-Game Description
Monster Hunter 4 Ultimate

Alpha monsters that lead Genprey packs. Larger than their brothers and with a more prominent crest, Gendrome use the venom in their highly evolved fangs and claws to paralyze their prey.




Threat Level (危険度): ★★★
Monster Hunter 4 Ultimate Equipment
Blademaster


Gunner


Negate Paralysis
Status Atk +1
Interesting Facts About Genprey and Gendrome
For desert villages, Genprey packs are a major threat for them due to them being more common than some aggressive Flying Wyverns native to the area.
Some parts from Genprey are used as utensils while other parts are commonly used by hunters in a multitude of ways.
Gendrome are well-known for occasionally living alone separate from a pack. In most cases, these are Gendrome searching for a pack to rule over, even if it means that they have to challenge that packs current leader.
Gendrome can be either male or female, just like Velocidrome.
The combs on their head are used for sex appeal.
Videos
Video

00:39

3DS Monster Hunter 4 Ultimate -Gendrome Intro-

Title
MH4: Gendrome Intro
by DrTangerine
Video

13:13

Let's Play Monster Hunter 4 013 - Lüsternder Gendrome GER

Title
Monster Hunter 4 Gendrome Gameplay
Provided by MHVuze
HC Gendrome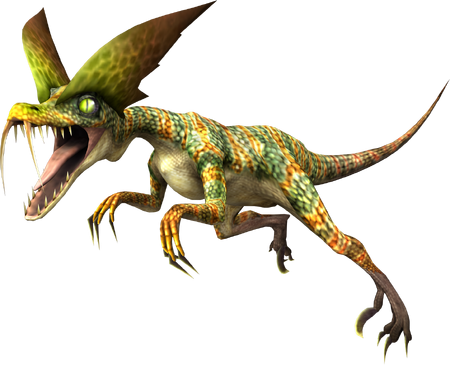 I kinda wanted to mention that this week the HC Gendrome has also ironically appeared in Monster Hunter Frontier G's latest update this week as well and I must admit it looks pretty deadly!
Video

04:59

【MHF-G】狡猾さを増した『ドスゲネポス(特異個体)』行ってみた!【特異個体】

Title
G HC Gendrome
by OPIUI Channel
In Memory of Lord Loss
Before we end this week's MAW let us remember the administrator that made all these DotWs and MAWs possible, Lord Loss. If some of you guys aren't aware yet, Lord Loss announced this week that he was retiring from being an administrator of this wiki. So let us remember the many contributions he has made on this wiki for the past few years and let us never forget all the work he has put into this wiki! He was the creator of many great things on this wiki but the greatest thing he shall be remembered for creating on this wiki is the Discussion of the Weeks(DotW) and Monster Appreciation Weeks(MAW)! So let us never forget that he is the true person behind these and shall always be!
Ad blocker interference detected!
Wikia is a free-to-use site that makes money from advertising. We have a modified experience for viewers using ad blockers

Wikia is not accessible if you've made further modifications. Remove the custom ad blocker rule(s) and the page will load as expected.