Comments

24
Monster Appreciation Week: Emerald Congalala(4th Gen)
Ad blocker interference detected!
Wikia is a free-to-use site that makes money from advertising. We have a modified experience for viewers using ad blockers

Wikia is not accessible if you've made further modifications. Remove the custom ad blocker rule(s) and the page will load as expected.
Hello, and welcome to Monster Appreciation Week!
This week we look at the monster whose gas is used in some airships, Emerald Congalala!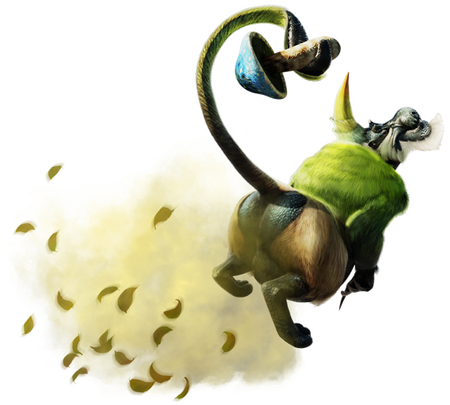 In-Game Description
Monster Hunter 4 Ultimate

A Congalala variant with green fur and a more prominent crest. Even more ravenous than ordinary Congalalas, they can store a greater amount of gas in their body, which means that they can produce a wider-reaching flatulence when threatened or provoked.




Threat Level (危険度): ★★★★
Monster Hunter 4 Ultimate Equipment
Blademaster


Gunner


Adrenaline +2
Bombardier
Mushromancer

Adrenaline +2
Bombardier
Mushromancer
Interesting Facts About Emerald Congalala
Order: Pelagusia - Suborder: Hard Teeth - Superfamily: Blunt Teeth - Family: Conga
The Emerald Congalala is treated as a subspecies to the Guild but during the events of MHFU, it wasn't even considered to be real like the Copper Blangonga. Its unknown what the Emerald is and there are many theories about what it is.
Its an unusual green color, unlike normal Congalala, and is still found being the leader to Congas. This Congalala has not been kicked out by its group.
Its not exactly confirmed what Emerald Congalala is though the Guild has many theories about it. One common theory is that Emerald Congalala live a solitary life, suggesting that they may have lost their troop, though Emerald Congalala are found around and in troops of Conga. A newer theory is that Emerald Congalala is possibly a Congalala that is trying to appeal to a Conga group so it can become their new leader. Other theories vary such as certain diets or molting though we may never know, at least not very soon.
The highest chance hunters have off seeing the Emerald Congalala is in a Jungle area/a very green area.
Its comb has different colors from normal Congalala.
Well, Emerald Congalala is a bigger eater than the other Congalala, excluding Gold Congalala, and has a higher chance of eating things in battle.
Compared to normal Congalala, their farts are a lot more powerful yet they fart and poop less Their super fart can actually send hunters flying and their farts are even strong enough to break a Kecha Wacha's claws.
The Guild are quite strict and don't just send any hunter to hunt one like the normal Congalala.
Emerald Congalala's claws are able to pulverize giant trees.
Its recommended to eat the intestines of a Congalala before a quest since it provides a lot of energy. The stuff found inside a Congalala's stomach is quite yummy and crunchy when taken out the stomach while the stomach is also quite crunchy(I might try it!).
Jungle(2nd Gen.) BGM is Congalala's Theme Music.
Videos
Video

08:25

Monster Hunter 4 - Online High Rank Quest 22 Vs Emerald Congalala

Title
Monster Hunter 4 - Online High Rank Quest 22 Vs Emerald Congalala
Provided by omegaevolution
Video

39:21

Monster Hunter 4 Ultimate Multiplayer -- Part 31 Planet of the Congalalas

Title
Monster Hunter 4 Ultimate Multiplayer -- Part 31 Planet of the Congalalas
Provided by octaneblue
Video

23:09

MH4G - G★1 - ババコンガ亜種 Emerald Congalala

Title
MH4G - G★1 - ババコンガ亜種 Emerald Congalala
Provided by kormaruR