Comments

25
Monster Appreciation Week: Daimyo Hermitaur(4th Gen)
Ad blocker interference detected!
Wikia is a free-to-use site that makes money from advertising. We have a modified experience for viewers using ad blockers

Wikia is not accessible if you've made further modifications. Remove the custom ad blocker rule(s) and the page will load as expected.
Hello, and welcome to Monster Appreciation Week!
This week we look at the giant enemy crab, Daimyo Hermitaur!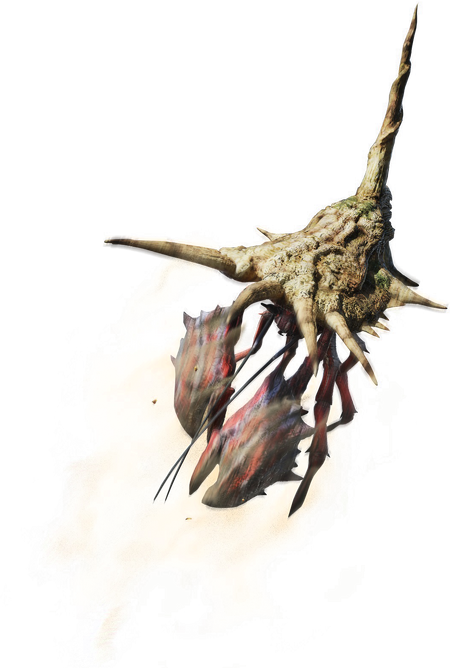 In-Game Description
Monster Hunter 4 Ultimate

This large Carapaceon attacks prey primarily with its large pincers and bubble breath. If the massive monster skull it wears on its back is destroyed, it will flee in search of a new husk to call home.




Threat Level (危険度): ★★★
Monster Hunter 4 Ultimate Equipment
Blademaster


Gunner


Defense Up (S)
Guard +1
Thunder Res Down

Defense Up (M)
Guard +2
Rationer
Thunder Res Down

Defense Up (S)
Thunder Res Down

Defense Up (M)
Steadiness +2
Rationer
Thunder Res Down
Interesting Facts About Daimyo Hermitaur
Daimyo Hermitaur prefer areas with abundant water sources and wide open sands.
They are omnivores and will feed on plants, insects, smaller animals etc. that are in the sand.

Hermitaur even have a taste for humans.

They use their claws to dig up food.
When they are young, they wear organic shells on their backs but as they get older they wear monster skulls, those in particular belonging to the Blos Wyverns. The reason for this is because the Blo's skull is good to flick sand and rock while digging and, can be used as a weapon while fighting.
Despite their size, they are pretty quick on their feet.
Pearls form in the skull do to body fluids and sand after long periods of time.
The claws of a Daimyo Hermitaur are very thick.
Daimyo Hermitaur's claws become its enemy when it guards covers itself. The reason why is because it can't see while guarding itself and it makes it easier for monsters to grab it or roar at it shocking it and making it lose its balance. From this it makes it vulnerable to attacks.
The HC Daimyo Hermitaur seem to be a mutation of sorts of the Daimyo Hermitaur.
Daimyo Hermitaur's BGM
Videos
Video

00:21

Monster Hunter Freedom Unite - One-Horned Daimyo (Daimyo Hermitaur intro)

Title
MHFU - Daimyo Hermitaur Intro
Provided by GSD993
Video

01:07

3DS モンスターハンター 4G Monster Hunter 4G - Daimyo Hermitaur ダイミョウザザミ Intro

Title
MH4G - Daimyo Hermitaur Intro
Provided by Xyp Games
Video

01:09

Monster Hunter Freedom Unite - Daimyo Ecology

Title
Daimyo Hermitaur Ecology Video
Provided by GSD993
Video

17:50

Monster Hunter 4G - Daimyo Hermitaur - Charge Blade Demo Gameplay

Title
Monster Hunter 4G - Daimyo Hermitaur - Charge Blade Demo Gameplay
by Kogath
Video

17:45

Monster Hunter 4G - High Rank Village Introduction + Daimyo Hermitaur Urgent Quest モンスターハンター4G

Title
Monster Hunter 4G - High Rank Village Introduction + Daimyo Hermitaur Urgent Quest モンスターハンター4G
by omegaevolution
Video

07:47

MHF HR500 daimyo Hermitaur HCダイミョウザザミ特異個体

Title
Monster Hunter Frontier - HC Daimyo Hermitaur
by AzureStarStone