Comments

19
Monster Appreciation Week: Dah'ren Mohran
Ad blocker interference detected!
Wikia is a free-to-use site that makes money from advertising. We have a modified experience for viewers using ad blockers

Wikia is not accessible if you've made further modifications. Remove the custom ad blocker rule(s) and the page will load as expected.
Hello, and welcome to Monster Appreciation Week!
This week we look at the close relative of Jhen Mohran, Dah'ren Mohran!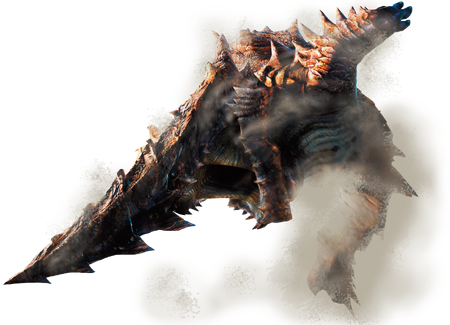 In-Game Description
Monster Hunter 4 Ultimate

Colossal elder dragons that swim through the Great Desert, smashing obstacles with their spiral horns. Their unique color comes from the thick layer of oxidized metals and other rare minerals that lodge in their hides over their long lives.




Threat Level (危険度): ★★★★★★
Monster Hunter 4 Ultimate Equipment
Blademaster


Gunner


Critical Eye +1
Marathon Runner
Punishing Draw
Worrywart

Critical Eye +1
Rock Steady
Critical Draw
Worrywart

Critical Eye +1
Marathon Runner
Pierce Up
Worrywart

Pierce Up
Rock Steady
Bonus Shot
Reload Speed -2
Interesting Facts About Dah'ren Mohran
Dah'ren Mohran is a close relative of Jhen Mohran.
Dah'ren Mohran has the same ecology as Jhen Mohran, however, there are some differences between the two species. The main two differences Dah'ren Mohran is known for is its aggression and its single horn.
Just like Jhen Mohran, its horn is used for destroying objects that are in its way while its swimming in the sand. It also uses the horn like a drill as it twists its body in a spiral-like motion as it digs into the sand.

These horns are used by humans for excavation.
Over many years, these horns will have had hardened magnificently with age and eventually can pierce through anything.

From swimming in the sand for long periods of time, all sorts of minerals and ore have formed on its body, making its scales rusty and giving it that reddish color. The sand has polished the rusty scales and the sand has given the scales a unique texture.

Its rare to find scales that are smooth and that glow crimson like the sunset.

Unlike Jhen Mohran, Dah'ren Mohran can shoot large clumps of sand mixed with other minerals from their back as projectiles. These huge projectiles can block a predator's path and can prevent the equipment on some ships from being used.
Unlike Jhen Mohran, Dah'ren Mohran is actively aggressive will actually try to attempt to kill a predator or destroy a whole town when put in danger in attempt to make the threat stop their attack.
Its believed by the Guild that Dah'ren Mohran might be smarter than Jhen Mohran.
A Dah'ren Mohrans shell is like a layer of bedrock.
The carapace is an impossibly hard shell that makes vast mountains look like so much sponge.
The rockskin is a massive carapace with overwhelming, and perhaps otherworldly, presence.
The brace of a Dah'ren Mohran is the strong foreleg armor made to support great weight, usually dusted entrancingly with sand. In some rare occasions when soaked in water, the thick, layered foreleg plating gains strength from the water.
Dah'ren Mohran's BGM
| | |
| --- | --- |
| | MH3: Jhen Mohran, Hallowed Jhen Mohran and Dah'ren Mohran Music Theme Part 1 |
| | |
| --- | --- |
| | MH3: Jhen Mohran, Hallowed Jhen Mohran and Dah'ren Mohran Music Theme Part 2 |
Videos
Video

01:01

Kogath - Monster Hunter 4 - Dah'ren Mohran Intro

Title
Kogath - Monster Hunter 4 - Dah'ren Mohran Intro
Provided by Kogath
Video

19:47

Monster Hunter 4 Nubcakes 27 - Dah'ren Mohran (Attack Up ULTRA) English commentary online gameplay

Title
Monster Hunter 4 Nubcakes 27 - Dah'ren Mohran (Attack Up ULTRA) English commentary online gameplay
by iCEMANnoob
Video

14:52

Kogath - Monster Hunter 4 - Dah'ren Mohran Gameplay

Title
MH4: Dah'ren Mohran Gameplay
Provided by Kogath