Comments

15
Monster Appreciation Week: Brute Tigrex(4th Gen)
Ad blocker interference detected!
Wikia is a free-to-use site that makes money from advertising. We have a modified experience for viewers using ad blockers

Wikia is not accessible if you've made further modifications. Remove the custom ad blocker rule(s) and the page will load as expected.
Hello, and welcome to Monster Appreciation Week!
This week we look at the Black Roaring Wyvern, Brute Tigrex!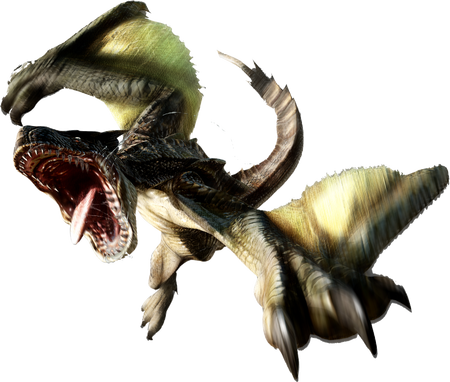 In-Game Description
Monster Hunter 4 Ultimate

A subspecies of Tigrex, these beasts are as brutal as they are ravenous. They prefer volcanic regions, but can be found in a range of areas. Their howls are even more piercing than standard Tigrex roars and send shockwaves far and wide.




Threat Level (危険度): ★★★★★
Monster Hunter 4 Ultimate Equipment
Blademaster


Gunner


Speed Eating +1
Earplugs
Capture Guru

Speed Eating +2
HG Earplugs
Capture Guru

Speed Eating +1
Earplugs
Capture Guru

Speed Eating +2
HG Earplugs
Capture Guru
Interesting Facts About Brute Tigrex
The Brute Tigrex is a variant of Tigrex.
It is confirmed that this altered coloration is the result of extreme heat from volcanic ash and other such impurities that fuse with the Tigrex's shell. The presence of this ash seems to make its shell less effective at insulating heat
They will attack the normal Tigrexs with no warning.
This Tigrex burns energy faster than the normal species from its higher metabolism and it can't really tolerate the cold from this though it still seems to have some resistances against the cold of the desert at night.
Its roars are far stronger than the normal Tigrex's and even more destructive. Its roar can even kill prey at close range, not leaving a single mark on prey.
It is said to also have become darker from eating certain types of prey.
Its teeth, claws, wings, tail, head, and legs are stronger than Tigrex's.
Tigrex's BGMs
Videos
Video

06:12

High Rank Black Tigrex vs Hammer - MHP3rd

Title
High Rank Brute Tigrex vs Hammer - MHP3rd
by DarkJinouga
Video

14:25

Black tiger

Title
Brute Tigrex
by akihara67
Video

11:46

Monster Hunter 4 Nubcakes 52 - Stygian Zinogre & Black Tigrex Subspecies ARENA English commentary

Title
Monster Hunter 4 - Stygian Zinogre & Brute Tigrex HAMMER gameplay
by iCEMANnoob
Video

14:55

Monster Hunter 4 Nubcakes 46 - FERAL Tigrex & Black Tigrex Subspecies English commentary online

Title
Monster Hunter 4 - FERAL Tigrex & Brute Tigrex HAMMER gameplay
by iCEMANnoob