Merry Christmas and Happy Holidays, Monster Hunter fans!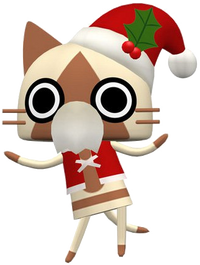 We of the MH Wiki Admin Team would like to extend all the best of the season to each any every one of you this evening. It's been a year of very highs and very lows for we MH lovers in the west in 2012, but now's the time to sit back, relax, brew a hot cup of coco, and heck, play some Monster Hunter while we're at it! 
Here's hoping we all get what we asked for this year, be it a shiny new Wii U or 3DS, or even some cool Monster Hunter merch! I for one am hoping Santa sends me some high-quality MH3U monster icons, but that's another story.
Have a wonderful time with family and friends on this Christmas Eve, and all the best for the year to come.
Thanks for reading!
Ad blocker interference detected!
Wikia is a free-to-use site that makes money from advertising. We have a modified experience for viewers using ad blockers

Wikia is not accessible if you've made further modifications. Remove the custom ad blocker rule(s) and the page will load as expected.