Zeke - The Wandering Vagrant
GOALS
Get all rewards
Get as much gold as I can in www.gaiaonline.com
Current NEWS
Is HR 9!!!! The winds of fate are changing....

Established a group of hunters who are now called the "Tyrant Slayers" (thanks Dankedude) :D
Made a page for my own FanFic :
A Day in the Life of a Hunter
A Forgotten Destiny
Half the way-Half the Journey
As the name says I'm the Vagrant Of Minegarde! I also go by the name Zeke Splendor (not my real name) I roam the land in search of worthy opponents, on the way to the village of Pokke- I ran into a Tigrex Its roar made the ground shake, but I stood up , and quickly dispatched the beast with my Sonic Bow,
Before the final blow was struck, the beast made one final attempt and shoved me in a heap of snow, causing me to crash a decent height into the snow below the mountain..
When I woke up an old man told me that I was now in Pokke, so I explored the area and renovated the farm there. The village chief ( Who I was surprised to know was Treshi's sister) welcomed me and gave me a number of task to prove my self as the Hero Of Kokoto, I immediately obliged and hunted down numerous beasts until I finally came upon the Tigrex again. It still had the scar I gave it from last time. It greeted me with a roar and a pounce, while dodging its attacks I gave its face two bigger scars . Now that its right eye was blinded Tigrex limped away- I found it in the cavern and planted a shock trap in front of it. Kicking its face prove effective and it fell victim to my trap, Alas the Tigrex was caught.

After the Tigrex was gone new dragons appeared. This time my old friend the Kirin came back, we had a reunion in the mountains- I guess it hasn't forgotten how I took out its parent in Kokoto, too bad the snow was its final resting place. The Chameleos was a tricky creature, it took me to 2 places before I finally ended its existence in the Forest and Hills near Kokoto
Hunter's armory: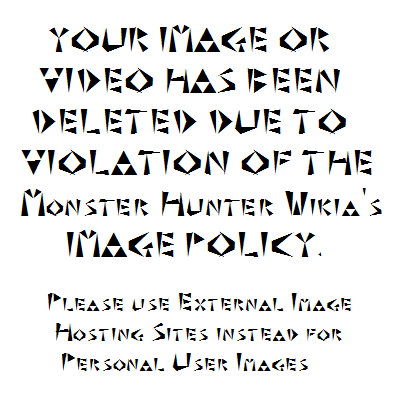 My Weapons
Greatswords:
Longswords:
Sword & Shields:
Master's Replica
Upper Battleaxe (for now)
Red Saber (for now)
Deathprize
Dual Swords:
Hammers:

Hunting Horns:
Lances:
Gunlances:
Bows:
Hunting History (Special Mentions!)
Long long time ago- Beat first Tigrex with Sonic Bow at 99-100 hours of game time
May 10- Beat The Rajang
May 13- Got the Rise to The Summit Quest
May 19 - at exactly 35 minutes I - Zeke have slain my first Akantor (by myself) using full Silver Sol armor and Gaelic Flame
the time was 9:30 am at 199 hours : 34 minutes - 200 hours :20 minutes of game time.
June 3- Beat Final Invitation within 17 minutes and 20 seconds
Comments
---
exscuse me for putting it here but, how on earth can you bury monsters when the game does not have such a function?7253 12:49, 18 November 2008 (UTC)
Actually the burying part was never really possible lol, it just kinda adds up to the story...
o, nice story though. its well good. lol.7253 12:44, 26 November 2008 (UTC)
You may join. Go to my talk page for some info! (Dankedude 21:23, 3 December 2008 (UTC))
Thanks. You'll get there eventually...Ookamikazuchi 01:31, 4 December 2008 (UTC)
Excellent idea! Go ahead! (Dankedude 16:57, 5 December 2008 (UTC))
Hey, thanks. I like you're story and you're profiles pretty good too. By the way, have u read any of my other stories Tenchberry 10:22, 6 December 2008 (UTC)
Very cool! (Dankedude 23:47, 6 December 2008 (UTC))

jesus christ! you are amazing at storys!shame it ended at the rajang i was amazed and actually wanted to know how it ended. (unlike most storys i read lol)7253 08:44, 8 December 2008 (UTC)
Awesome! You are a great storyteller. (Dankedude 17:29, 9 December 2008 (UTC))
Omg it's like you know. Well Octacon was actually a friends suggestion. (Dankedude 07:01, 10 December 2008 (UTC))
Thanks, i'm now saving up Naruga materials to get it's LS Tenchberry 18:54, 29 December 2008 (UTC)
Well I'm doing well. (Dankedude 02:07, 29 April 2009 (UTC))
Great Job on getting HR6! (Dankedude 07:28, 3 May 2009 (UTC))
You have my permission. (Dankedude 07:30, 16 May 2009 (UTC))
Hunting Stats
| Monster | Number Slain | Type | Icon | Max Size | Min Size |
| --- | --- | --- | --- | --- | --- |
| Felyne | 50 | Lynian | | - | - |
| Melynx | 159 | Lynian | | - | - |
| Shakalaka | 35 | Lynian | | - | - |
| Vespoid | 594 | Neopteron | | - | - |
| Hornetaur | 191 | Neopteron | | - | - |
| Great Thunderbug | 77 | Neopteron | - | - | - |
| Anteka | 101 | Herbivore | - | - | - |
| Popo | 37 | Herbivore | - | - | - |
| Kelbi | 8 | Herbivore | - | - | - |
| Mosswine | 402 | Herbivore | - | - | - |
| Aptonoth | 10 | Herbivore | - | - | - |
| Apceros | 54 | Herbivore | - | - | - |
| Giaprey | 137 | Bird Wyvern | - | - | - |
| Giadrome | 20 | Bird Wyvern | - | 841.8 | 701.5 |
| Velociprey | 232 | Bird Wyvern | - | - | - |
| Velocidrome | 16 | Bird Wyvern | - | 841.8 | 701.7 |
| Genprey | 81 | Bird Wyvern | - | - | - |
| Gendrome | 11 | Bird Wyvern | - | 776.0 | 695.5 |
| Ioprey | 112 | Bird Wyvern | - | - | - |
| Iodrome | 8 | Bird Wyvern | - | 867.6 | 766.9 |
| Yian Kut-Ku | 42 | Bird Wyvern | - | 1030.2 | 873.8 |
| Yian Garuga | 2 | Bird Wyvern | - | 1031.7 | 1031.7 |
| Gypceros | 9 | Bird Wyvern | - | 1135.3 | 1013.7 |
| Rembora | 94 | Wyvern | - | - | - |
| Rathian | 10 | Wyvern | - | 1793.7 | 1645.6 |
| Rathalos | 27 | Wyvern | - | 1710.9 | 1629.4 |
| Khezu | 17 | Wyvern | - | 1039.1 | 873.2 |
| Basarios | 5 | Wyvern | | 1531.2 | 1349.5 |
| Gravios | 6 | Wyvern | | 2252.9 | 2099.9 |
| Monoblos | 2 | Wyvern | | 2004.2 | 2004.2 |
| Diablos | 6 | Wyvern | | 2132.9 | 1993.4 |
| Tigrex | 17 | Wyvern | | 1770.0 | 1716 |
| Cephalos | 46 | Piscine | - | - | - |
| Cephadrome | 6 | Piscine | - | 1599.8 | 1522.9 |
| Plesioth | 9 | Piscine | | 2662.5 | 2500.4 |
| Hermitaur | 124 | Carapaceon | - | - | - |
| Daiymo Hermitaur | 17 | Carapaceon | - | 1096.2 | 970.9 |
| Ceanataur | 59 | Carapaceon | - | - | - |
| Shogun Ceanataur | 10 | Carapaceon | - | 897.5 | 845.7 |
| Shen Gaoren | 3 | Carapaceon | - | - | - |
| Bullfango | 162 | Primatius | - | - | - |
| Bulldrome | 13 | Primatius | - | 650.9 | 555.0 |
| Conga | 116 | Primatius | - | - | - |
| Congalala | 9 | Primatius | - | 1033.2 | 954.5 |
| Blango | 206 | Primatius | - | - | - |
| Blangonga | 10 | Primatius | - | 894.4 | 860.0 |
| Rajang | 0 | Primatius | - | - | - |
| Kirin | 3 | Elder Dragon | | 506.1 | 464.3 |
| Kushala Daora | 5 | Elder Dragon | - | 1829.3 | 1529.7 |
| Chameleos | 1 | Elder Dragon | - |  ??? |  ??? |
| Lunastra | 1 | Elder Dragon | - |  ??? |  ??? |
| Teostra | 1 | Elder Dragon | - |  ??? |  ??? |
| Lao-Shan Lung | 2 | Elder Dragon | - | I don't know myself O_O | - |
| Fatalis | 0 | Elder Dragon | - | - | - |