I'm not a very great hunter, but I'm pretty good. At first I was being kicked into the stratosphere by giadrome, but I finally overcame it. I've now hunted many monsters.I've finished "LOTT"(Land of the tremors), and have killed Fatalis three times. White fatalis wtih a greatsword takes for me five or six rounds( with hidden blaze but since i've upgraded to the darkness dark blade).That armor mode, ugh... Your'e cool till you go into armor mode white fatalis, and you know that(I still believe that.) I just got to H.R. 9 and I have to say that Yama Tsukami shouldn't have been the urgent for H.R. 9 . He should been like the Shen Gaoren in H.R.6 where you would beat him to get to Ukanlos. I have an X link Kai account, but you'll have to ask me to find out my username.
I've entered the world of Tri. Currently H.R. 55. Finding out how to post something on the chat board took some time.I needed to find how you get on the same quest as everyone else.I found pecco easier than I thought.Though it called rathian twice,it ended one of our pecco safaris in the plains.Now I've finished the Butler's Baggi. Very similar to Great Jaggi, but they're meant to be alomost identical.The Lagiacrus hunt with Master Longsword was epic, and it was very fun. Farming for Deviljho gems is being a pain in the neck. It's not because I don't get any(only need one more) it's just that something always prevents me from seeing the reward screen. Such as being disconnected,having to do something when the quest ends and coming back at the stats stuff, failing, and evening being forced to go somewhere while I'm hunting.
Farming Gobul for its armor set, and it would not give me a whisker. So I kill offline and Cha-cha carves one! Now I have gobul srmor so I can kill three-star monster hurray.
Game Name:Michael,I.D. C5VZEL
top ten monsters I like: 10. Lao-Shan-Lung 9. Great Jaggi 8. Akantor 7. Blangonga 6. Deviljho 5. Rathalos 4. Lagiacrus 3. Berykurosou 2. Nargacuga 1. Tigrex
Check out my monster hunter game idea It's really good. It's on my blog
Trivia
Ridley is my favorite Nintendo antagonist followed by Bowser
I like Tigrex so much because I was looking on a gaming site that had a picture of his freedom 2 box art picture next to a Monster Hunter Tri news article, so I would never would have found monster hunter and I wouldn't be on this wiki without him.
If I could have my own theme music it would be this http://www.youtube.com/watch?v=Lsj3TSPehww
Favorite weapons in order of favorite to least favorite 1. Greatsword, 2. Hammer,4. Bows, 5. Sword and Shields, 6. Dual Swords 6.Long sword 7. Switch Axe, 8. Hunting Horns, 9. Bowguns( all of them), 10. Lances (I suck at both of them.)
I like Sony more than Microsoft( that's why I hate that MHFO is released on the 360)
I find Cell Phones, coffee, and social community sites like Facebook overrated
I support real-life hunting if it's legal( I like animals though)
I spend a lot of time thinking about scenarios and stories.
I'm will read books, but I finish quite a few of them within a couple of days
I don't swear or use inappropriate language
I do well in school because I get serious about listening and paying attention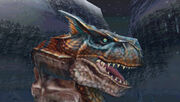 My favorite pages
Edit
Add links to your favorite pages on the wiki here!
Favorite page #2
Favorite page #3