Now I'm playing Mhp3rd. My favorite weapon is long sword next to that is SA, I like LS because even though there is no shield it maximize in power and agility. I'll do my best to edit some of mh.wikia to make it a better wiki and a better place.
My Favorite Monsters:
1.Alatreon
2.Black Tigrex
3.Tigrex
4.Lao-Shan Lung
5.Akantor
6.Plesioth
7.Plum D. Hermitaur
8.Emerald Congalala
9.Kushala Daora
10.Bulldrome
I love those monsters who don't have roar which is the cause that you will get combo-ed.
My favorite and most Used Weapons:
1.Hellish Slasher(LS)
2.Knock Out Dragonsword(LS)
3.Atlantica(LS)
4.Ice Fang(SnS)
5.Wyvern Blade "Camelia"
6.Daora Ice Blade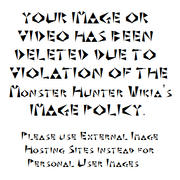 Favorite Armor skills:
1.Attack Up(Large)
2.Divine Protection
3.Guts
4.Evade +2
5.Evade Distance Up
6.High Grade Earplug