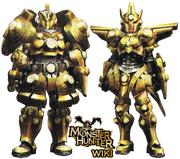 Total Defense
Initial Defense:
185
Final Defense:
225
Fire Res:
+25
Water Res:
-20
Thundr Res:
+5
Ice Res:
-5
Dragon Res:
-10
Other information
Rarity:
6
Total Slots:
9
Skill Effects
Skill 1:
Defense Up (S)
Skill 2:
Recoil Down +2
Skill 3:
Bombardier
Skill 4:
-Slow Eater
Armor Pieces
Head:

Uragaan Cap+

Torso:
Uragaan Vest+
Gauntlets:

Uragaan Guards+

Waist:
Uragaan Coat+
Leggings:
Uragaan Leggings+
Defense
Name
Slots
Crafting Materials
Cost

31~45

Uragaan Helm+

O

Uragaan Scale+

x6

, Uragaan Carapace

x6

, Uragaan Jaw

x4

, Monster Bone+

x5

18800z

31~45

Uragaan Mail+

O

Uragaan Carapace

x6

, Uragaan Marrow

x6

, Uragaan Scute

x3

, Agnaktor Scale

x4

18800z

31~45

Uragaan Vambraces+

OOO

Uragaan Carapace

x4

, Uragaan Ruby

x1

, Uragaan Scale+

x14

, AgnaktorCarapace

x8

18800z

31~45

Uragaan Faulds+

O

Uragaan Scale+

x10

, Uragaan Marrow

x4

, Uragaan Scute

x3

, Monster Bone+

x12

18800z

31~45

Uragaan Greaves+

OOO

Uragaan Carapace

x14

, Uragaan Ruby

x1

, Uragaan Scale+

x10

, Uragaan Jaw

x6

18800z
Total
Uragaan Scale+ x40, Uragaan Carapace x30, Uragaan Jaw x10, Monster Bone+ x17, Uragaan Marrow x10, Uragaan Scute x6, Agnaktor Scale x 4, Uragaan Ruby x2, Agnaktor Carapace x8
94,000z
Skills: Defense Up (S), Recoil Down +2, Bombardier, Slow Eater

Resistance: +25 Fire, -20 Water, -5 Ice, +5 Thunder, -10 Dragon
Notes:
With multiple empty slots, Defense Up(S) could reach Defense Up(M). Recoil+2 also be reached to Recoil+3 making little or no recoil when shooting abnormal shots or stronger ammunation(which will give recoil even if the recoil of the weapon says "Some" or "Average").
Slow Eater can be removed and Steadiness+2 is possible for this armor set making shots accurate, no dev. added.
Ad blocker interference detected!
Wikia is a free-to-use site that makes money from advertising. We have a modified experience for viewers using ad blockers

Wikia is not accessible if you've made further modifications. Remove the custom ad blocker rule(s) and the page will load as expected.