The UkanlosRuinerBlades are Duel Sword Type weapons.
Appearances
Monster Hunter Freedom Unite
UkanlosRuinerBlades / (?) (MHFU)
Attack
490
Buying Cost
Upgrade Cost
Attribute
Ice 120
150,000z
N/A
2nd Attribute
None
Buying Materials
Upgrade Materials
Affinity
-30%
StrongUkanlosFin (4)
UkanlosUnderscl (6)
UkanlosShovelJaw (2)
Ukanlos Stone (1)
N/A
Sharpness
Slots
---
Bonus
Defense +10
Rarity
10
Description
Embodiment of the white god's 7th power: direction. The moon cannot escape.
Remarks
Made of Ukanlos, the White God's body parts.
Same stats as the Ukanlos Soul Hatchet, same situation when comparing it to other DS. It's the most powerful DS in terms of raw power, has 120 ice attribute and gives a +10 defence bonus.
Horrible affinity and sharpness, seeing as DS lose their sharpness faster than any other weapon it is recommended to have the Sharp Sword and Sharpness +1 skill when using this weapon.
Images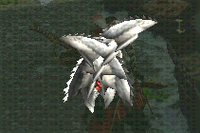 See Also
Ad blocker interference detected!
Wikia is a free-to-use site that makes money from advertising. We have a modified experience for viewers using ad blockers

Wikia is not accessible if you've made further modifications. Remove the custom ad blocker rule(s) and the page will load as expected.