Trenya (Japanese トレニャー) is an adventuring Felyne and a disciple of Treshi.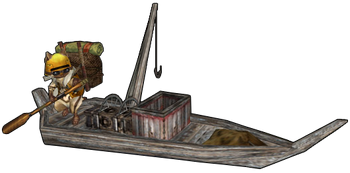 Personality
Trenya is an adventurous Felyne that is shy and that can be easily surprised.
Background
Trenya travels to various regions in his boat. On his adventures, Trenya can help gather items for hunters, some of which can only be obtained through him. Some of these task may include attacking large monsters like Tigrex in order to get certain materials. From such task, he even has his own fan club. He has learnt how to do this from his master, Treshi, and continues to learn more from him. Though Trenya loves searching for treasure, he will occasionally go on vacation for his own well being and safety.
Appearance
He wears a yellow helmet and vest.
Photo Gallery
Sources
"Hunter's Encyclopedia G"
Ad blocker interference detected!
Wikia is a free-to-use site that makes money from advertising. We have a modified experience for viewers using ad blockers

Wikia is not accessible if you've made further modifications. Remove the custom ad blocker rule(s) and the page will load as expected.