Tobi-Kadachi is a Fanged Wyvern first introduced in Monster Hunter: World.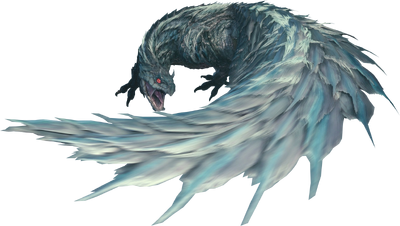 Physiology
Tobi-Kadachi's face resembles a colubrid in appearance with grayish blue scales covering its slim squirrel-like shape. On its back are patches of white fur as well as a bushy tail covered in rows of spikes. Its front limbs also have a few spikes.
Abilities
As Tobi-Kadachi fights, it picks up static electricity in its fur by brushing against trees and the ground. Tobi-Kadachi uses this static electricity to increase the strength of its attacks. Like a flying squirrel, Tobi-Kadachi has a membrane between its limbs that allow it to glide for long distances.
Habitat
Tobi-Kadachi is native to the Ancient Forest.
Game Appearances
Chronological Appearances
| | | |
| --- | --- | --- |
| First US / EU Appearance: | First JP Appearance: | Latest Appearance: |
| (2018) | (2018) | (2018) |
Notes
Tobi-Kadachi's head, back, and tail can be wounded.[1]
When charged up, the fur on its back will stand up.
References
Ad blocker interference detected!
Wikia is a free-to-use site that makes money from advertising. We have a modified experience for viewers using ad blockers

Wikia is not accessible if you've made further modifications. Remove the custom ad blocker rule(s) and the page will load as expected.