Taizo (Japanese タイゾウ) is one of the many Legendary Rastas found within Mezeporta Square. He specializes in using the Gunlance.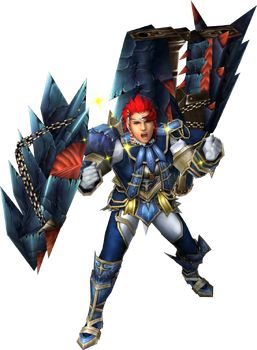 Personality
Taizo is considered to be a very weird and annoying person.
Background
Though not much is known about Taizo's past, he is most well-known for his iron gut and his skills with the Gunlance. Taizo can eat just about anything, even with some of the worse ingredients, and still want more after eating. Though he is a big eater, his skills with the Gunlance is more than just legendary. Taizo fights in a bold, risk-taking way that could potentially get himself killed. Despite this style of fighting, Taizo has continued to live on. He is also known to be loved by women everywhere from his charming looks.
Appearance
Taizo wears Chasse armor, along with Lavi Barretter F, and he uses many different types of Gunlance.
Sources
Ad blocker interference detected!
Wikia is a free-to-use site that makes money from advertising. We have a modified experience for viewers using ad blockers

Wikia is not accessible if you've made further modifications. Remove the custom ad blocker rule(s) and the page will load as expected.