Swamp
Names
English Name:
Swamp
Japanese Name:
沼地
General Information
Icon:
Number of Areas:
10
Hazards:
Cold regions (Area 3, 7, and 9)
Main Resources:
Lightcrystal, Novacrystal, Quartz Ore
Small Monsters:
Ioprey, Genprey, Felyne, Melynx, Aptonoth, Kelbi, Conga, Bullfango, Remobra
Large Monsters:
Iodrome, Bulldrome, Congalala, Nono Orugaron, Kamu Orugaron, Shogun Ceanataur, Terra Shogun Ceanataur, Yian Kut-Ku, Blue Yian Kut-Ku, Gypceros, Khezu, Red Khezu, Gravios, Black Gravios, Kirin, Chameleos, Teostra, Abiorugu, Akura Vashimu, Akura Jebia, Unknown (Black Flying Wyvern), Midogaron, Baruragaru
Game Appearances:
MH2, MHF2, MHFU, MHFO
Generation:
Second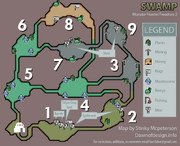 The Swamp is an area introduced in Monster Hunter 2. It is situated in a temperate environment characterized by bodies of stagnant water, tall deciduous trees, moist caverns, and patches of tall brown grass. It is inhabited by a variety of monsters, including Gypceros, Shogun Ceanataur, and Iodrome. 
Common Resources
Bone
Mystery Bone
Unknown Skull
Bug
Bitterbug
Carpenterbug
Insect Husk
Royal Rhino
Thunderbug
Killer Beetle
Flashbug
Firefly
Godbug
Fish
Goldenfish
Bomb Arrowana
Pin Tuna
Sleepyfish
Glutton Tuna
Scatterfish
Sushifish
Rumblefish
Burst Arrowana
Fruit
Bomberry
Huskberry
Scatternut
Mushroom
Blue Mushroom
Special Mushroom
Toadstool
Exciteshroom
Nitroshroom
Parashroom
Ore
Stone
Ice Crystal
Sootstone Ore
Suiko Jewel
Akito Jewel
Lightcrystal
Iron Ore
Machalite Ore
Goldstone Piece
Disk Stone
Earth Crystal
Whetstone
Plant
Felvine
Sunset Herb
Sleep Herb
Antidote Herb
Herb
Veggie Elder
Location: Base Camp
Gifts

Mega Bugnet
Red Seed
Special Mushroom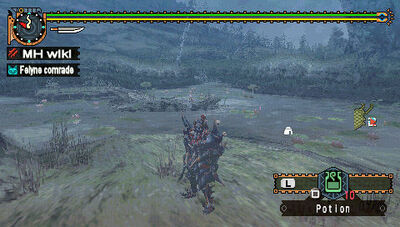 A grotto-like area complete with large lilly pads and rotting logs. There is a fishing spot, a mining point, and hunters can gather Felyne Fur Rubies here.
Videos
00:26

Monster Hunter Freedom Unite -- "The Still Swamp" (Swamp Intro - Day)


The Still Swamp MHF2 Swamp Day Video

00:26

Monster Hunter Freedom Unite -- "The Still Swamp" (Swamp Intro - Night)


The Still Swamp MHF2 Swamp Night