Stonefist Hermitaur Topics:

Stonefist Hermitaur are Deviants of Daimyo Hermitaur introduced in Monster Hunter Generations.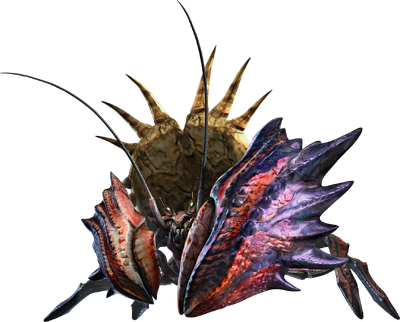 Physiology
Stonefist Hermitaur sports blue-purple coloration throughout its body. Its left claw has grown larger in size and has larger spikes on the edges.
Game Appearances
Chronological Appearances
| | | |
| --- | --- | --- |
| First US / EU Appearance: | First JP Appearance: | Latest Appearance: |
| (2016) | (2015) | (2017) |
In-Game Description
Monster Hunter Generations

The "Stonefist" is a Hermitaur with an enlarged left pincer which doubles as a sturdy black shield. Its armor causes blades to shatter, and for shots to bounce off, filling the Hunter with holes instead. Requires special permission to hunt.




Threat Level (危険度): ★★★★★
Music Themes
| | Title |
| --- | --- |
| | MHGen: Deviant Theme |
Notes
Stonefist Hermitaur has an improved water blast attack that covers a wider area.
Weapons will bounce off its big pincer.

Tripping it will however make this pincer vulnerable, letting off steam making it soft enough to damage.

Its legs are now breakable.

Breaking its legs doesn't give any extra reward after completing a quest.

When not enraged, Stonefist Hermitaur can dig out of Pitfall Traps.
Ad blocker interference detected!
Wikia is a free-to-use site that makes money from advertising. We have a modified experience for viewers using ad blockers

Wikia is not accessible if you've made further modifications. Remove the custom ad blocker rule(s) and the page will load as expected.