Ad blocker interference detected!
Wikia is a free-to-use site that makes money from advertising. We have a modified experience for viewers using ad blockers

Wikia is not accessible if you've made further modifications. Remove the custom ad blocker rule(s) and the page will load as expected.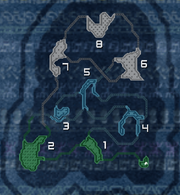 The Snowy Mountains is a location introduced in Monster Hunter 2. It is situated in and around an expansive mountain range located near Pokke Village.
This location features temperate lowlands, a clear freshwater lake, frozen caves, and snowbound peaks. It is inhabited by many monsters adapted for low-temperature life, such as Blangonga, Khezu, and Giadrome. It returns in Monster Hunter Generations known as Arctic Ridge.
Common Resources
Resources
Areas found in
Bones
Bone
Area 3
Small Bone Husk
Area 3
Mystery Bone
Area 3
Unknown Skull
Area 3
Bugs
Flashbug
Areas 1 and 2
Carpenterbug
Areas 1 and 2
Godbug
Areas 1 and 2
Bitterbug
Areas 1 and 2
Royal Rhino
Areas 1 and 2
Insect Husk
Areas 1 and 2
Fishing Bait
Firefly
Areas 1 and 2
Cricket
Areas 1 and 2
Fish
Knife Mackerel
Areas 1 and 2
Sleepyfish
Areas 1 and 2
Rumblefish
Area 1
Burst Arrowana
Area 1
Bomb Arrowana
Area 1
Small Goldenfish
Area 1
Sushifish
Area 1
Berries
Armor Seed
Area 6
Husk Berry
Area 6
Paintberry
Area 6
Mushrooms
Blue Mushroom
Area 3
Parashroom
Area 3
Ores
Iron Ore
Areas 2, 3, 4, 5, 6 and 8
Disk Stone
Areas 2, 3, 4, 5, 6 and 8
Machalite Ore
Areas 2, 3, 4, 5, 6 and 8
Ice Crystal
Areas 2, 3, 4, 5, 6 and 8
Stone
Areas 2, 3, 4, 5, 6 and 8
Decayed Dragon Scale
Area 8
Goldstone Piece
Areas 2, 3, 4, 5, 6 and 8
Whetstone
Areas 2, 3, 4, 5, 6 and 8
Plants
Herb
Areas 1, 2, 5, 6, 7 and 8
Mountain Herb
Areas 1, 2, 5, 6, 7 and 8
Sleep Herb
Areas 1, 2, 5, 6, 7 and 8
Sunset Herb
Areas 1, 2, 5, 6, 7 and 8
Sap Plant
Areas 1, 2, 5, 6, 7 and 8
Ivy
Areas 1, 2, 5, 6, 7 and 8
Veggie Elder
Location: Area 4
Exchanged Item
Received Item
Rare Exchange
Gifts
Sm Monster Bone
Hot Drink
Hot Meat
Potion
Ice Crystal
Dung
Wyvern Dropping
Dragonmoss
Thunderbug Juice
Monster Fluid
Dragonwood
Thunderbug Juice
Monster Fluid
Bone
Mountain Herb
Black Ant
Sharp Claw
Geography
Base Camp
A thin passage set between cliffs, one can see a large meadow with many rivers and streams.
Area 1
A large open grassy field, Popo are common here, along with Anteka, the southern portion is bordered by a giant lake, large monsters come here to feed.
Monsters: Popo, Anteka.
Area 2
Another large grassy area, with a giant cliff that must be hiked to reach the upper areas, Herbivores are sometimes seen here, along with packs of Giaprey and Bullfango on the top.
Monsters: Popo, Anteka, Giaprey, Bullfango.
Area 3
A small cave with a large tree stump used by wyverns to keep their eggs safe, large wyverns come here to rest when injured.
Monsters: Bullfango, Giaprey, Blango.
Area 4
A crescent shaped cave where the Veggie Elder wanders, there's a few mining spots and a honey comb.
Area 5
A long, thin cave with many exits, only small monsters appear here, such as Shakalaka, Anteka and Giaprey.
Monsters: Bullfango, Giaprey, Anteka, Shakalaka.
Area 6
A large open cove with snow, large monsters are usually found here, there is a Mining Point in the form of an ice crystal near the exit to Area 5.
Monsters: Giaprey, Blango, Popo, Anteka.
Area 7
A long cliff top covered in snow, there is a destroyed Base Camp here, Large Monsters may come here sometimes.
Monsters: Bullfango, Blango, Giaprey, Popo, Anteka.
Area 8
The top of the mountain, in the topmost section there is a flag, and a shed Daora skin can be found during the ascension.
Monsters: Bullfango, Blango, Popo.
Secret Area
A lowland meadow situated below Area 2. Giaprey can be encountered here, and bugs can be gathered, as well as other miscellaneous items.
Monsters: Giaprey.
Notes
Kushala Daora's shed skin can be seen atop the mountain in Area 8.
Gallery
Monster Hunter 2
Monster Hunter Freedom Unite
Frontier Pioneer Quest Revamp
Music Themes
| | Title |
| --- | --- |
| | MH2: Snowy Mountains Theme |
| | MHF2/MHFU: Snowy Mountains Theme |
| | MHP2nd/MHP2ndG/MHX/MHF-G9: Snowy Mountains Theme (HR1-4) |
| | MHF-G9: Snowy Mountains Theme (HR5~) |
| | MHF-G9: Snowy Mountains Theme (G-rank) |
Videos
Video

00:20

Monster Hunter Freedom Unite -- "Silver World" (Snowy Mountains Intro - Day)

Title
Silver World
by octaneblue2
Video

00:20

Monster Hunter Freedom Unite -- "Silver World" (Snowy Mountains Intro - Night)

Title
Silver World
by octaneblue2
See Also