Some of the names in this Article use an unofficial English translation of its official Chinese Name.
The name is obtained either by using Chinese translating programs or through previous existing English equivalent terms in the game. The names will be used as quick references around other articles in the Monster Hunter Wiki until Capcom reveals the official English names for them.

---
Shattered Monoblos Topics:

Shattered Monoblos are a Variant of Monoblos introduced in Monster Hunter Online.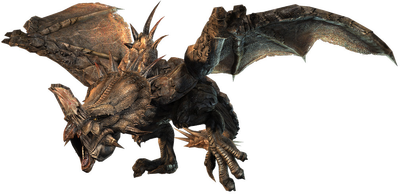 Other Non-Subspecies Forms
Monoblos
Main Article: Monoblos
Game Appearances
Chronological Appearances
| | | |
| --- | --- | --- |
| First US / EU Appearance: | First JP Appearance: | Latest Appearance: |
| None | None | (2013) |
In-Game Description
Monster Hunter Online

顾名思义,一角龙头部有一只巨大的角,呈现出暗红色。当它发怒时,角会变成鲜红色。因此它也被称为"真红之角"。




Threat Level (危険度): !!!!!
Notes
Shattered Monoblos's tail can be severed.