Ruined Ridge is a location in Monster Hunter XX. This location is high up in the clouds, beyond the reach of most airships. However, Wycademy has began to research this area's rich environment for new discoveries with the help of the Wycademy Ship Recon.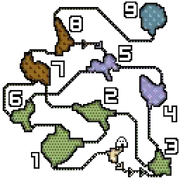 Gallery
Monster Hunter XX
Notes
Ruined Ridge has never been explored or known about until recently by the Wycademy.
This place is believed to be where a lost civilization once lived. All sorts of ruins and ancient trees have been spotted in this area thus far.
Ad blocker interference detected!
Wikia is a free-to-use site that makes money from advertising. We have a modified experience for viewers using ad blockers

Wikia is not accessible if you've made further modifications. Remove the custom ad blocker rule(s) and the page will load as expected.