Pink Rathian
Talk

0
5,705pages on
this wiki
Pink Rathian

Names

English Name:
Pink Rathian
Nicknames:
Pink Ian
Titles:
Cherry Blossom Fire Wyvern
Romaji:
Rioreia Ashu
Japanese Name:
リオレイア(亜種)
Japanese Title:
Cherry Blossom Fire Monster
Korean Name:
리 오레이아 아종

Description and Information

Species:
Flying Wyvern
Element/s:
Ailment/s:
Weakest to:
/
Weakness Sign:
Limping
Signature Move:
Backflip/Double Backflip
Habitats:
Jungles, Desert, Tower and Forest and Hills
Misty Peaks, Deserted Island, Flooded Forest, Sandy Plains, Heavenly Mountain, Underground Cave, Unknown Great Forest
Size:
1151.9 ~ 2303.8
Monsters in Relation:
Rathian, Gold Rathian, Azure Rathalos and Unknown (Black Flying Wyvern)

Chronological Appearances

First US/EU Appearance:
(2006)
First JP Appearance:
(2005)
Latest Appearance:
(2013)
Generation:
1

The Pink Rathian is a Subspecies of the Rathian. Her attacks are generally stronger than those of normal Rathian, but that aside the two are identical in many ways.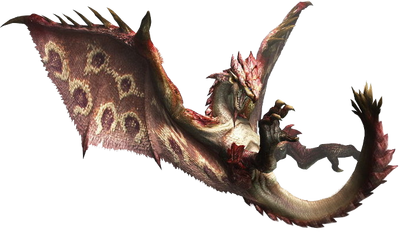 Pink Rathian has a more heavily-armoured body and has greater health than her green relative. She can often be found in various quests alongside her gender counterpart, the Azure Rathalos.
In-Game Description
Monster Hunter 3 Ultimate

A subspecies of Rathian with vibrant pink scales. Pink Rathian wield their toxic tails more skillfully than normal Rathian, using a wide variety of attacks to weaken their prey before eventually moving in for the kill.
Notes
The Pink Rathian is a genetic mutation of the Rathian.
Pink Rathian returns, revamped, in Monster Hunter 3 Ultimate. She is particularly adept at tail-based attacks now, and can be found in the Misty Peaks. Additionally to her new tail-rotation flip she performs a fire bite instead of a normal bite.

Pink Rathian's tail is much tougher than the regular Rathian, requiring much more damage before it's cut.

HC Pink Rathian has a more purple color to certain parts of its body and more spikes on its tail. It has new behavior and attacks including a fire ball so large and strong it creates an explosion larger than the creature itself, and has a tail swing that instead of turning its body, it waves its tail around behind it poisoning anyone it hits.
Pink Rathian makes a return in Monster Hunter 4.

It can become infected by Goa Magara's Feral Wyvern Virus.
Her back can now be broken.